by Lisa Marchitto, Director, Marketing and Communications, ALS Society of Canada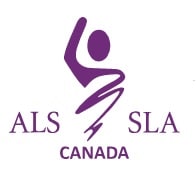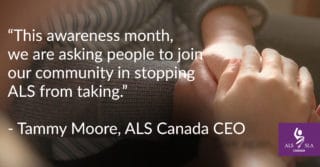 June is ALS Awareness Month in Canada and already, there has been lots of momentum behind our shared cause. In Canada's capital city of Ottawa, Members of Parliament made statements acknowledging the month, landmarks across the country were lit in purple, and WALK for ALS events continue to rally and inspire hope, while raising funds for community-based support and research investment.
People who are living with or have cared for someone with ALS know only too well how the disease can take dreams, abilities, lives. An estimated 3,000 Canadians are currently living with ALS and each day in Canada, an estimated 2-3 people die of the disease. Awareness is a big part of creating a future without ALS because it inspires people to take action — whether supporting someone who is living with the disease, volunteering their time, organizing a fundraising event, or making a donation. By translating action into research investment, we are closer than ever before to making ALS a treatable, not terminal disease.
This ALS Awareness Month, we are inviting people to join the ALS community in stopping ALS from taking — by giving in support of a future without the disease.  We know that families who have experienced an ALS diagnosis face a challenging journey – one that is overwhelming and can bring feelings of helplessness and hopelessness. By giving to ALS research, we are all acting against that hopelessness and helplessness, together.
As we continue to build momentum over the course of the month, we invite you to join us on Facebook and Twitter as we share stories that inspire, educate, comfort and give us hope that one day, we can stop ALS from taking any more.