by Rachel Patterson, General Manager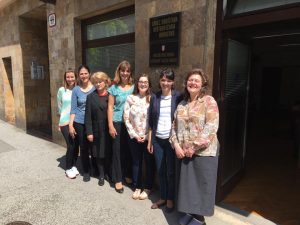 In May, Chairwoman Carol Birks (MND Australia) and I took our annual trip – this year, visiting Eastern Europe. Our first stop was with the Croatian Union of Muscular Dystrophy Societies in Zagreb. President Marica Miric introduced us to her staff and volunteers and explained the special programs and services they offer to help people with ALS/MND and other neuromuscular disorders in Croatia. We also learned about the intricacies of the local healthcare system and what steps are being taken to advocate or the needs of people with ALS/MND within that system. Our colleagues in Croatia were excited to learn about opportunities for support and collaboration with the Alliance. We are hoping that Marica and her team will be with us in Boston to share their work with the whole community!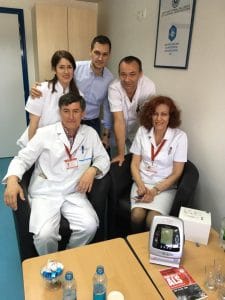 Next, we were off to Bosnia and Herzegovina, to the city of Banja Luka. There, we met with The ALS Association of Republika Srpska, an association that joined the Alliance in 2016. Dr. Aleksandra Dominovic and her dedicated team took us on a tour of the public hospital and taught us more about how ALS/MND care works in their country. Later that day, we had the privilege of meeting several local people with ALS/MND and their families to introduce the work of the Alliance and answer questions about international care, advocacy and programming. We also spoke with local and national news outlets and met the Minister of Health. We hope these efforts put the spotlight on the needs and rights of people with ALS/MND in Banja Luka. Dr. Dominovic wrote to us to tell us about the experience:
By organizing a meeting with patients and their family members, we made our suffering visible all over the world. Our patients were very happy about this visit because they hope study drugs will become available to them like they are used in other countries. Rachel Patterson's presentation about the Alliance opened to us new perspective of possibilities of cooperation… We look forward to mutual activities in creating a future without ALS.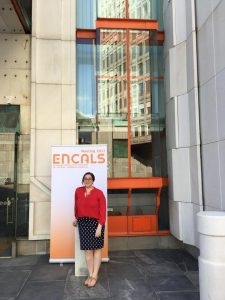 After our visit to Banja Luka, we headed to Ljubljana, Slovenia for the 2017 Meeting of the European Network to Cure ALS (ENCALS). While in Slovenia, we had the opportunity to share the work of the Alliance at a satellite meeting for European allied health professionals, where we collaborated with colleagues from Slovenia, Scotland, England, Finland, Norway, Spain, Belgium, the Netherlands and more. We felt energized by scientific presentations about the next frontiers in ALS/MND clinical trials, and we caught up with European researchers and neurologists who have dedicated their lives and careers to finding treatments for ALS/MND.
Before returning home, Carol and I made one last stop to visit our colleagues at the Motor Neurone Disease Association. In Northampton, we met with Alliance Treasurer Steve Bell and Financial Officer Andrew Zielinski to finish preparations for the fiscal year 2017-2018 budget, and liaised with the Conference Team to finalize exciting plans for Boston in 2017. We also had the pleasure of meeting with MND Association staff, including CEO Sally Light and the communications team, and learning about their upcoming campaigns and the Association's advocacy efforts in England, Wales and Northern Ireland.
Sadly, this will be my final annual Alliance trip with Carol Birks as she prepares to retire from her position as Chairwoman in December. However, I am looking forward to continuing the tradition with our incoming Chairwoman, Barbara Newhouse. In 2018, plans are underway for us to visit member associations South and Central America and learn more about how the Alliance can support member programming and advocacy in the region. I am enthusiastic about the power of our international community and our ability to reach, support and encourage member associations all over the world. Together, we are working to improve the quality of life and care for people with ALS/MND everywhere. Stay tuned for our next travel update!