Our Chairwoman Carol Birks has just returned from extensive travel, visiting with Alliance members from across the globe!
From 7-9 September, Carol was in Myanmar with neurologist Nortina Sharizaila from MND Malaysia at the invitation of neurologist Professor Win Mit Thit.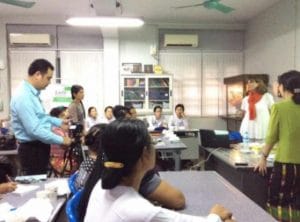 Carol took time to meet with PALS, family members, and health providers to discuss the impact of ALS/MND on families, the daily challenges faced, tips and tricks and models of support.
The next day Carol attended lunch with hosts Professor Win Mit Thit, Dr Ohnmar and their team of dedicated Neurologists and Palliative Care physician Dr Wah Wah Myint Zu. Carol and Nortina learnt more about the healthcare system in Myanmar and the treatment available to people living with ALS/MND. Most of their MND patients were from rural communities who would come to Yangon for diagnosis but return to their communities to care for their family member at home. Palliative care services are currently focused on cancer, but Dr Wah was keen to change this.
The workshop that afternoon was very well attended and commenced with an overview of MND from Professor Win Mit Thit. Nortina discussed MND Mimics, current guidelines for the management of ALS/MND and PACTALS. Carol provided an overview of the work of The Alliance and MND Associations in Australia.
The workshop concluded with an overview of Palliative Care in Myanmar from Dr Wah Wah Myint Zu who expressed interest in working collaboratively with the neurology team to develop a neuro-palliative model of support for people with MND in Myanmar.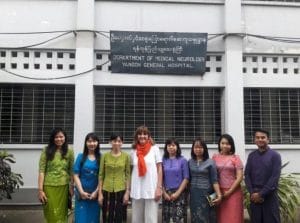 First steps have already been taken thanks to the energetic and passionate Dr Ohnmar who, prior to the workshop, had overseen the development and printing of the first MND information leaflet for patients. Professor Win Mit Thit attended the PACTALS meeting in Kyoto the following week with the aim of adding Myanmar to the PACTALS shared registry in the near future. Dr Ohnmar has been invited to join the Alliance as an Associate Member and we look forward to welcoming Myanmar to the International Alliance in the near future.
From Carol: "I am very grateful for the invitation to visit this amazing country, if only very briefly, and for the kindness and hospitality of the Neurology team at Yangon General Hospital. A special thanks to the people with MND and carers I met and Dr Khine Yee Mon for taking me to visit the market and the amazing Pagoda!"