The Request
Sally Light, CEO, MND Association of England, Wales and Northern Ireland (SL): Lev and I met for the first time at the Alliance Meeting in Orlando, and he followed up to say that he was hoping to plan a visit by his team to the UK and would it be possible to see the work of the MND Association. We organised a programme over a number of days which included meeting Association staff but also a visit to an MND Care Centre run by the National health Service.
Dr. Lev Brylev, Director, Live Now Foundation/Martha Mary Medical Centre (LB): The main challenge for us was finding a strategy of expanding from one multidisciplinary team in Moscow to cover more regions. We established the Live Now Foundation in 2015 to separate the medical team dedicated to following patients in Moscow and the foundation to raise awareness, fundraise and facilitate development of the standards of care. We decided to explore the experience of the MND Association.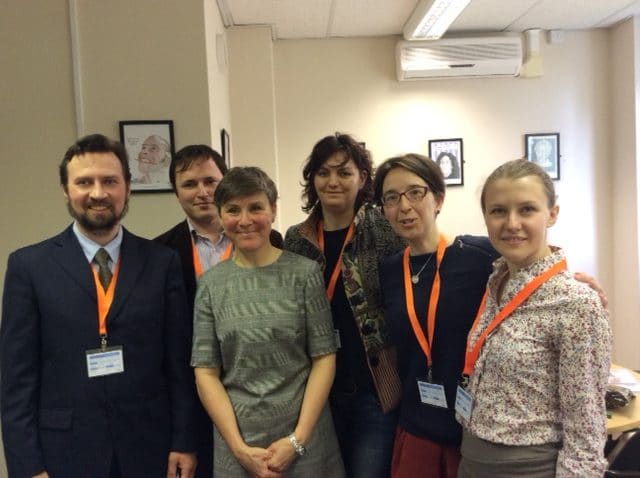 The Response
SL: Through a series of meetings with various members of staff, we shared ideas about our two organisations. The team from Moscow was very interested to think about how they might expand their excellent service in Moscow to other parts of Russia within the limited resources that they have available. We were able to describe our branch and group structure in which local volunteers provide support and befriending and access to Association services right across the three countries that we serve (England, Wales and Northern Ireland). We also shared some of our educational material for people living with MND and their families and other documents for health and social care professionals.
LB: Our visit was organized perfectly. We had meetings with leaders of all departments at the MND Association, and we also visited the clinical center in London. All our colleagues from MND Association were very enthusiastic during our discussions, and they were also very interested in our experience.
The Outcome
SL: The MND Association staff that met the team from Moscow found the whole experience really inspiring. As a relatively big organisation it is important to be regularly reminded of our roots – we began as a small group of people affected by MND 37 years ago. It also helped us to reflect on the work of our branches and groups and all the great things our volunteers do to ensure we have local presence in an affordable way. Hearing the presentation at the meeting in Dublin was a lovely way to be reminded of how working in partnership can bring benefit to both parties.
LB: Actually, this visit was extremely helpful. We realized that the main goal of our newly established Live Now Foundation should be reaching all patients. The MND Association shared very helpful materials. Keeping in mind the experience of the MND Association, in August of 2016 we established new branch of our Foundation in Saint-Petersburg. This trip was very inspirational; we realized that our UK colleagues were more or less in the same situation as us 30 years ago. We should work hard and share information to be successful.