by Melinda Kavanaugh
The Alliance  recently sponsored a cross-country family caregiving project between the University of Wisconsin-Milwaukee USA (Dr. Melinda Kavanaugh), Stellenbosh University Capetown, Baragwaneth Hospital Johannesburg (Dr. Andre Mochan), and the MND Association of South Africa (MNDA of SA), directed by Dr. Franclo Henning. This work was supported through funds from the Alliance Support Grant programme.
The goal of the engagement project was to exchange ALS/MND family caregiving data from the US national young caregiving project conducted by Dr. Kavanaugh and to learn from MNDA of SA and South African families in order to develop culturally appropriate caregiving education and interventions for ALS/MND families in South Africa.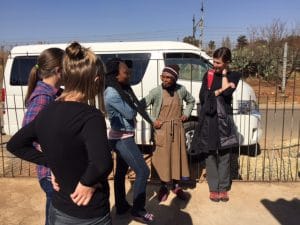 The MNDA of SA and Dr. Henning worked with the US team, which included social work students and faculty, to arrange meetings with families in Cape Town, while Dr. Mochan assisted in arranging meetings with families in Johannesburg. In total, 20 families were engaged as a part of the partnership. They were seen both in clinics and in their homes. The families included patients with ALS/MND, their adult caregivers and children between the ages of 8-18 in the home.
Families discussed issues similar to those found in the US project, including the need for equipment, transportation assistance and financial help. Youth discussed the numerous and intense caregiving tasks and felt a strong sense of responsibility for care, even when it impacted school and their own well-being. During the interviews conducted in Capetown and Johannesburg, both parents and youths described the need for in-person support and educational programming – for all family members.
The data collected through this partnership project has both immediate and long-term implications as the MNDA of SA develops care and support resources for families in South Africa and as clinical services and facilities continue to grow. Participating in the project also provided an opportunity for both the US and South African teams to learn from each other and build relationships and collaborations around ALS/MND and caregiving across different cultures and countries.
The collaborators are now planning a symposium next summer to present this project to medical, social work and other allied health professions in South Africa – raising awareness of ALS/MND needs and best care practices for the patient and family.
Thanks to the Alliance for supporting this cross-cultural partnership!