---
COVID-19 Round Table : Impact on PALS & CALS
On Wednesday, April 22nd  the PALS & CALS Advisory Council (PCAC) of the International Alliance met for a roundtable discussion on the impacts of COVID-19 in our global ALS/MND community.
Click on the image below for questions and answers from this roundtable.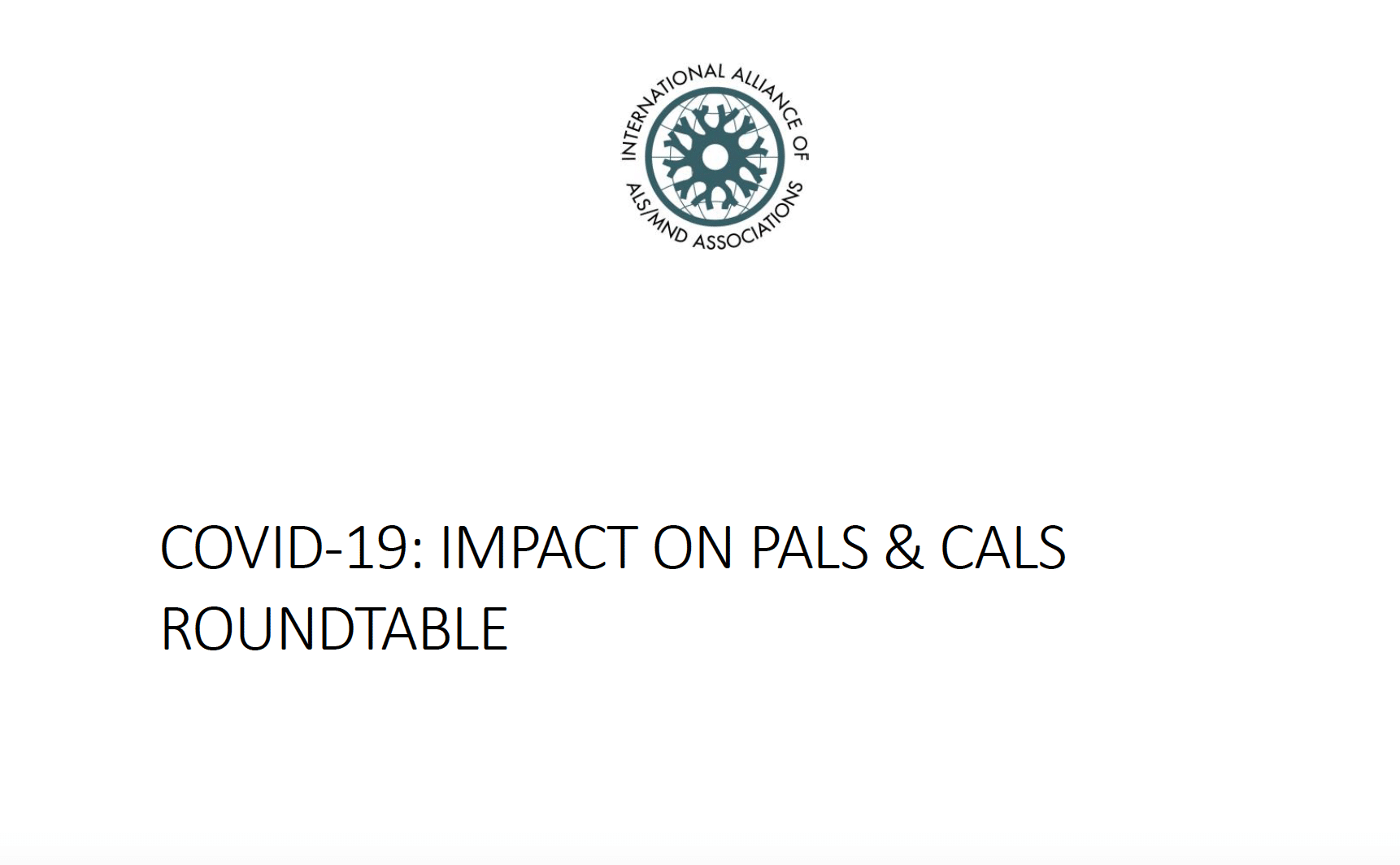 ---
Update: March 29, 2020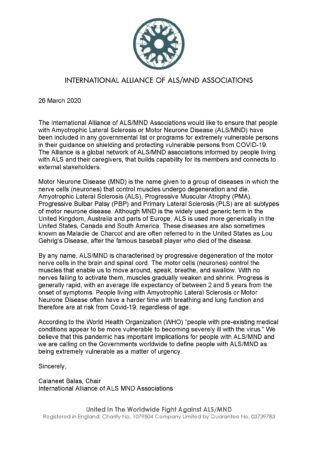 ---
Update: March 27, 2020
Dear Alliance Members and Friends,
There is no doubt that the COVID-19 situation is worrisome for the ALS/MND population and I wanted to provide some information that we have collated from various member organizations throughout the world. The COVID-19 pandemic is an evolving situation and we will continue to monitor it and as we gather more information, we will update you.
The Alliance would recommend that you discuss any individual concerns you may have with your local health and social care team. They will be able to give you advice and information which takes into account your specific circumstances, the surrounding environment and local eco-system challenges.
Individuals with ALS/MND are in a vulnerable group and are at a higher risk for complications from COVID-19. You need to self-isolate at home during the outbreak. It is very important that you try to avoid the infection. To mitigate this risk:
Stay home except to get medical care.
Wash your hands regularly with warm soap and water for 20 to 30 seconds.
Clean all surfaces regularly that you touch every day including your phone, joystick and wheelchair armrests, tray, push rims, etc.
Keep 30 days of medical supplies and medication on hand as well as nutritional supplements (including tube feeding supplies).
 Clinics/Hospitals:
Most clinics have switched to alternative communication through some form of telehealth. If you have any concerns about attending a pre-booked surgery, hospital or hospice appointment, contact the relevant professional by telephone or email to ask for guidance. If non-urgent, it might be possible to postpone the appointment to help you maintain self-isolation or to take the visit using an online platform such as Zoom, Facetime, Skype or phone.
Sheltering in place:
People are limiting social interaction at the moment and this is even more important for people living with ALS/MND. Follow your government's recommendations and limit personal contact to those who live in the same household or those who are essential to your care.
People who do need to be in close contact with you should also self-isolate as much as possible, and follow guidance to reduce risk of bringing infection into your home. However, they may need to help you with shopping and picking up medical supplies.
Caregivers:
Continue to provide support as long as you:
are free of the virus symptoms, including fever, unexpected and persistent coughing, and feeling short of breath
have not been in recent close contact with anyone who has the symptoms.
If you do have symptoms, you must self-isolate for 14 days away from the person at high risk. If you do not live with them, this means not entering their home during this time. If you live in the same household, try to isolate in a different room as much as possible.
Alternative care may need to be arranged if you become unable to offer support, especially if the person with ALS/MND is unable to manage daily routines without your help. Try the following:
contact the care agency if you receive some help from a paid care worker, as it may be possible to increase the amount of care
contact the local ALS/MND Organization for the person you support
contact the person's local health and social care agencies
Discuss ahead of time with your home care manager or agency how home health aides are screened and what backup will be provided for unwell workers.
Call attendants/home health aides before they come to your home to ensure they have not travelled to an affected area in the last 14 days and that they do not have a fever, cough or breathing difficulties.
When supporting someone at high risk, take extra care with hygiene. It is particularly important to consider hygiene before and after supporting someone with ALS/MND to eat and drink. Also, when assisting them with moving and handling from one location to another. The guidelines to Social Distancing provided by the government in England are a good source of information:
https://www.gov.uk/government/publications/COVID-19-guidance-on-social-distancing-and-for-vulnerable-people/guidance-on-social-distancing-for-everyone-in-the-uk-and-protecting-older-people-and-vulnerable-adults
A guide for family caregivers and COVID-19 precautions caregivers need to take now that is useful can be found here: https://ontariocaregiver.ca/family-caregivers-and-COVID-19-precautions-caregivers-need-to-take-now/
Symptoms:
If you think you are showing symptoms of COVID-19, check the website of or call your local public health
authority for advice. Call the clinic (primary care or ALS/MND clinic) that you usually attend to let them know you are unwell and have other health concerns.
Oxygen:
Prolonged use of oxygen therapy can be risky with ALS/MND. It can cause an upset in the balance between oxygen and carbon dioxide in your blood stream. However, there may be situations where oxygen can be used for short amounts of time to bring levels up. This should be done with the knowledge of your care team, who understand your needs.
If you do need emergency help, print off a warning that you have ALS/MND to let medical staff know that oxygen may need to be used with caution.
Ventilation:
If you use a ventilator, non-invasive ventilation like BiPAP, or cough assist device speak to your health care provider or respiratory therapist about the precautions you, your family and attendants should take in your home. Clean your equipment and replace filters regularly as per your device manual. Ensure you have an adequate supply of filters and tubing. The Les Turner Foundation has published a resource specifically about respiratory issues and you can access it here https://lesturnerals.org/support-services/coronavirus/care-recommendations-for-respiratory-issues/
Mental Health:
Social and physical isolation is very challenging from a mental health point of view. There are online resources to help with that as well and one link is from CAMH https://www.camh.ca/en/health-info/mental-health-and-COVID-19
Resources:
For further information about COVID-19 and the global situation we recommend that you seek advice only from credible sources such as the World Health Organization https://www.who.int/emergencies/diseases/novel-coronavirus-2019 , and your national, state and local health authorities.
This guidance was created by collating resources globally and we can't guarantee that the guidance is up to date or current as the pandemic is changing daily. We highly recommend that you communicate regularly with your local clinic, health authority and ALS/MND Society or Association.
Stay safe,
Calaneet Balas, Chair
International Alliance of ALS/MND Associations