By Antje Faatz, Head of Social Affairs, German Neuromuscular Disease Association (DGM)

Our vision is a world without ALS/MND. The German Neuromuscular Disease Association Deutsche Gesellschaft für Muskelkranke e.V. (DGM) is sharing vision, mission and goals with many other ALS / MND organizations around the world. Within the International Alliance of ALS/MND Associations we are united in the worldwide fight against ALS/MND.
In our daily work, we experience emotional ups and downs. On this way we sometimes feel exhausted thinking our work was not successful. But today we can proud. Great things have been achieved very recently. Not the breakthrough we are all waiting for, but results that show "people who care make a world of difference".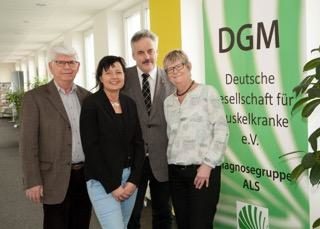 We, the German Neuromuscular Disease Association Deutsche Gesellschaft für Muskelkranke DGM e.V., have decided to intensify the fight against amyotrophic lateral sclerosis. At the end of last year an ALS chapter was founded under the umbrella of DGM in order to better communicate our strength and experience in dealing with this disease. We are in daily contact with a large number of people living with ALS/MND and their families accompanying them on their way. We work closely together with our medical scientific partners of the German ALS-NET. Today we are very pleased to announce that with the new location of the German Center for Neurodegenerative Diseases (DZNE) in Ulm another research center focusing on ALS has been added.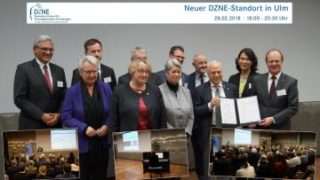 Right now, four years after the Ice Bucket Challenge 2014, our decision to promote intensive ALS research projects is remarkably bearing fruit: Scientists led by Professor Jochen Weishaupt and Professor Peter Andersen, both University Ulm, have discovered mutations in the KIF5A gene operating the hereditary variant of neurodegenerative disease Amyotrophic lateral sclerosis (ALS). Also an international research team led by Bayreuth cell biologist Dr. Ralf Braun has discovered cellular processes that may be involved in the development of ALS. The pathogenic protein TDP-43 hinders its own degradation and thus interferes with the self-purification of nerve cells. Both forward-looking results were co-financed by funds of the DGM.
To do even more research into the ALS, DGM´s Felix Jerusalem Prize this year has been awarded to two scientists. Dr. Cornelia Tune, University Hospital Lübeck, was honored for her research on the "role of the neuropeptide CGRP in the pathogenesis of ALS". PD Dr. Susanne Vogt, University Hospital Magdeburg, was granted for several research projects in the field of ALS.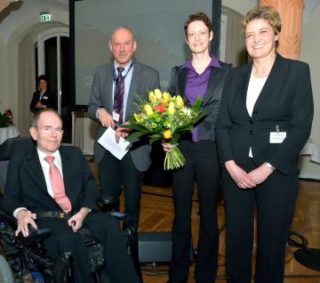 We are eager and thrilled to be part of the global fight against ALS/MND so that our shared vision of a world without ALS / MND will one day, not too far away, become real.