By Hallie Kobylski, Marketing & Communications Associate,  Les Turner ALS Foundation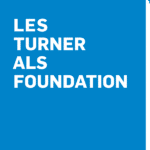 In the United States, May is ALS Awareness Month. Along with others in the ALS community, we use this opportunity to raise awareness, fundraise for support services and research and educate the general public about the realities of ALS. This ALS Awareness Month, our Les Turner ALS family came together to spread the message of hope and help.
Throughout May, hundreds of volunteers took to the streets, standing at intersections, shopping malls and train stations in bright, yellow vests to collect donations from passerby and raise awareness through a fundraising program we call "Tag Days." Other volunteers joined us in an educational program as ALS Awareness Advocates, leaving behind free kits full of awareness cards and stickers at local businesses, recreation centers and more.  Across Chicagoland, twelve communities and over 400 committed volunteers joined us in our vision to see a world free of ALS.
To further extend our awareness efforts, we developed a social media campaign called "#HopeandHelp." We shared stories of our volunteers and advocates, highlighted the resources we provide to people living with ALS and their families and described ways to get involved with the Les Turner ALS Foundation.
We are so grateful for our energetic and passionate ALS family. Because of their dedication to seeing a world free of ALS, over $30,000 was raised and over 243,000 people were reached!