Hilton Hotel, Sydney, Australia
November-December 2011
Below, you will find archived presentation materials from the 19th Annual Alliance Meeting, the 2011 Ask The Experts event and the 9th Annual Allied Professionals Forum.
We have shared materials from all presenters who gave us their permission, and the information is organised by event.
For the Alliance Meeting, most links will prompt you to download the PowerPoint file used during the presentation; there are also video and media clips where possible. We were fortunate to have video on-site for the Allied Professionals Forum, so we have provided links to YouTube videos of each presentation.
Feel free to browse, and if you have questions, send an email to the Catherine Cummings, Executive Director, for more information.
2011 Alliance Meeting
The presentation files from the Alliance Meeting can be found here below, in PDF format.
Efforts and Lessons of JALSA at the Earthquake, Tsunami and Nuclear Crisis in Japan
Yoshiaki Nagao/Yumiko Kawaguchi, Japan ALS Association
Germany: Focussing on ALS/MND within a NMD Association
Antje Faatz, DGM (Germany)
Dream Deliveries for ALS Patients in Taiwan
Dr. Ching-Piao Tsai/Dr. Chi-Hsin Huang, Taiwan MND Association
Xº Brazilian Symposium on MND/ALS
Tatiana Mesquita e Silva, ABrELA (Brazil)
An ALS Patient's Life with Cough Assist (Mechanical Insufflator-Exsufflator)
Satomi Homma
The Value of an Education Service
Bob Bestow, MND Scotland
Russia Estonia and Greece ALS/MND Outreach Initiative
Kathy Mitchell, Algonquin College (Canada)
ALS Hope Foundation and IsrALS Partnership
Sara Feldman, The ALS Hope Foundation (USA)
Presentation of the Finnish Neuromuscular Disorders Association
Eveliina Pollari, Finnish NMD Association (Finland)
Incurable Optimism – MND Association 1 Year On
Steve Bell, the MND Association of England, Wales and Northern Ireland
MND Association of South Africa
Franclo Henning, the MND Association of South Africa
Meeting Summary
Arnny Gudjonsdottir, Iceland (Alliance Volunteer)
2011 Allied Professionals Forum
All information has been made available by our presenters.
The APF was filmed and uploaded in three parts; access them by clicking below.  Please note we are still in the process of uploading presentations; thank you for your patience, and we expect to have this resolved soon!
Thank you to all of our wonderful presenters and to our host association, MND Australia, whose generous hospitality made the 2011 Meetings possible.
Here is our group photo from the 19th Annual Alliance Meeting, with over 60 members and friends in attendance!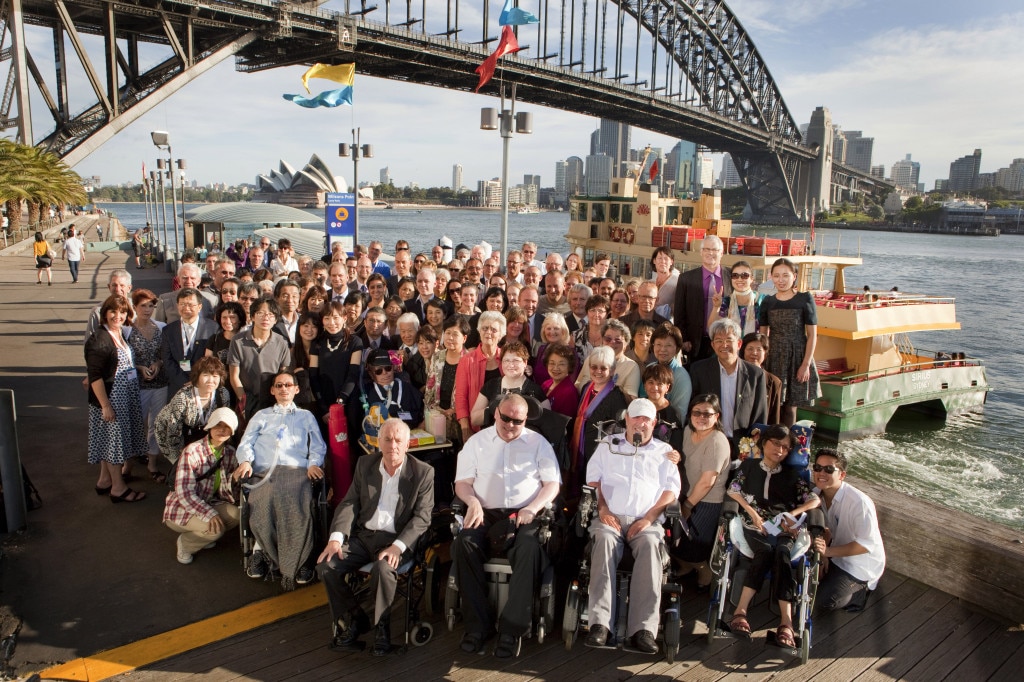 We'd also like to recognise The ALS Hope Foundation, sponsor of the 2011 Allied Professionals Forum!