Sheraton Hotel and Towers, Chicago, IL, USA 
December 2012
Below, you will find archived presentation materials from the 20th Annual Alliance Meeting, held on 2-3 December 2012; the Ask The Experts event, held on 3 December 2012; and the 10th Annual Allied Professionals Forum, held on 4 December 2012.
We have shared materials from all presenters who gave us their permission, and the information is organised by event .  To view presentations, simply click the title links to be redirected to YouTube.
Feel free to browse, and if you have questions, get in touch with Catherine Cummings, Executive Director, for more information.
2012 Alliance Meeting
Please note that this section is under construction!  We are still working to upload all 2012 Alliance Meeting files. Check back frequently, as we hope to have this resolved very soon. In the meantime, please browse the 2012 Ask the Experts and APF materials available.
2012 Allied Professionals Forum
Read the 2012 APF Programme here.
All presentations have been made available by our presenters and were uploaded to YouTube by our host association, the Les Turner ALS Foundation.
Please visit the Foundation's 2012 APF YouTube Playlist to browse all the presentations, or click on a title below to link directly to an individual video.
A qualitative analysis of the impact of caregiving on ALS carers' lives
Beth Stephens, USA
Gathering of knowledge with a view to changing the practice for end-of-life care for MND/ALS patients, focusing among other things on support for relatives
Ole Gredal, Denmark
How can we support the quality of life of carers and, subsequently, PALS?
Richard Kimball, USA
An innovative MND training programme for frontline staff
Kristina Dodds, Australia
Caregivers of individuals with ALS and cognitive and behavioural impairment: Pilot study of a psychoeducational intervention
Kristina Dodds, Australia
Communications technology for people with MND: Current picture and future directions
Kim Rusten, Australia
e-Solutions to improve outcomes for people living with ALS/MND
Stephen Bloch, UK
Computer access options for individuals with ALS/MND
Sara Feldman, USA
Eye tracker communication devices in ALS: Impact on disability and quality of life
Marco Caligari, Italy
Gadgets and gizmos for the ALS/MND client: Thinking outside the box
Amber Ward, USA
When is palliative care appropriate in the care of someone with ALS/MND?
David Oliver, UK
Early specialist palliative care support
Stefania Bastianello, Italy
"Would you do it again?" Patient perspective regarding their decision for PEG in ALS
Elaine Cawadias, Canada
Dysphagia and dysarthria in ALS: The importance of patient and family education
Kim Zimmerman, USA
Children in ALS families
Laurie Fieldman, USA
Reproductive decision-making in familial ALS
Deborah Holley, USA
Using surrogate markers of disease progression to improve clinical management of patients with ALS
Patricia Andres, USA
To exercise or not to exercise: That is the question… and how much?
Margaret McGovern-Denk, USA
Thank you to all of our wonderful presenters and to our member association, the Les Turner ALS Foundation, whose generous hospitality made the 2012 Meetings possible.
Here is our group photo from the 20th Annual Alliance Meeting, with over 60 members and friends in attendance!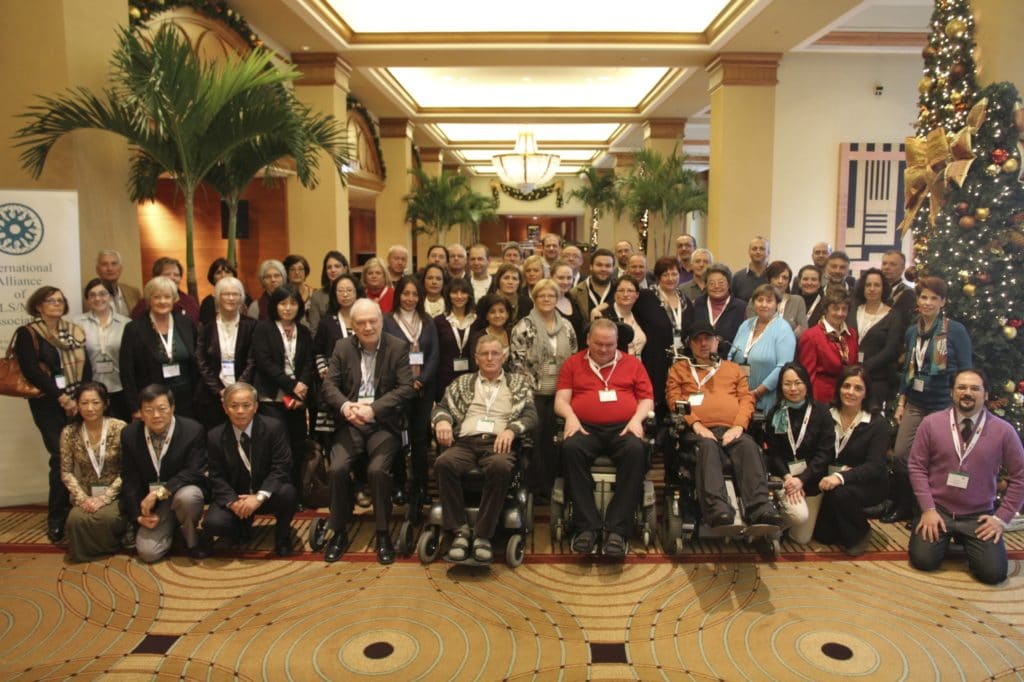 We'd also like to recognise The ALS Hope Foundation, sponsor of the 2012 Allied Professionals Forum!