Atahotel Quark, Milan, Italy
December 2013
Below, you will find archived presentation materials from the 21st Annual Alliance Meeting, held on 3-4 December 2013, and the 11th Annual Allied Professionals Forum, held on 5 December 2013.
We have shared materials from all presenters who gave us their permission, and the information is organised by event below.
For the Alliance Meeting, most links will prompt you to download the PowerPoint file used during the presentation; there are also video and media clips where possible.  We were fortunate to have video on-site for the Allied Professionals Forum, so we have provided links to YouTube videos of each presentation.
Feel free to browse, and if you have questions, get in touch with Catherine Cummings, Executive Director, for more information.
2013 Alliance Meeting
Read an overview of the 2013 Alliance Meeting written by the newly elected Chair, Carol Birks!
The 2013 Alliance Meeting Programme Agenda was organised by theme. Below, themes appear in bold. Click the title of any presentation to download the PowerPoint file or other media used by the presenters.
In Memory of Jeffrey Deitch (YouTube Video)
Sara Feldman and Terry Heiman-Patterson, The ALS Hope Foundation (USA)
Communication (Technology)

 
The Kevin O'Donnell Independent Living Initiative  (PowerPoint)
Sara Feldman, The ALS Hope Foundation (USA)
Language is Hope, to Be Heard (PowerPoint)
Martin Burger, ALS Vereinigung.ch (Switzerland)
Communication Aids for ALS Patients: Some Initiatives of the French Association ARSLA (PowerPoint)
Yves Tronchon, ARSLA (France)
Assistive Technology Programme for Israeli ALS Patients (PowerPoint)
Efrat Carmi, IsrALS (Israel)
Family Communication During the Disease Process (PowerPoint)
Carla Yolotl Flores Plancarte, FYADENMAC (Mexico)
Communication Support as an Aspect of Palliative Care in Japan (YouTube Video)
Yumiko Kawaguchi, Japan ALS Association
Burnout
Keeping Staff Healthy (PowerPoint)
Rod Harris, MND Victoria (Australia)
Compassion Fatigue and Burnout Amongst Carers as Informal Caregivers (PowerPoint)
Steve Bell, MND Association of England, Wales and Northern Ireland
Communication (Outreach)
Examples of Video Movies to Reach Awareness for ALS and to Highlight Achieved Milestones (PowerPoint)
Mia Mahy, ALS Liga Belgium
Stem Cells: Communication Between Myth and Reality (PowerPoint)
Dr. Christian Lunetta, AISLA Onlus (Italy)
Having a Good Website Isn't Enough: Communication Tactics to Meet the Needs of Both the Patient and the Organisation (PowerPoint)
Robert A. Goldstein, ALS Therapy Development Institute (USA)
Information, Communication and the Spread of ALS in Argentina (YouTube Video)
Pablo Aquino and Dario Ryba, ALS Association of Argentina
International Fundraisers
UltraRun Marathon (PowerPoint) with Video (.wmv File)
Kiki Qu, Taiwan MND Association
Palliative Care
One Love, One Heart – Let's Care Together (PowerPoint)
Antje Faatz, DGM (Germany)
Palliative Care Studies Review in Russia, 2010-13 (PowerPoint)
Dr. Gleb Levitsky, Russian Charity ALS Foundation
ALS Respiratory Decision Making (PowerPoint)
Dee Holden Norris, The Forbes Norris Center (USA)
Coping with the Diagnosis 
We Are With You When the Difficult Time Comes (PowerPoint)
Kiki Qu, Taiwan MND Association
Sexuality
Sexuality in ALS (PowerPoint)
Dr. Anna Marconi and Dr. Federica Fossati (Italy)
Partnerships
Reaching Out: Continuing to Develop Partnerships in the Asia Pacific Region (PowerPoint)
Carol Birks, MND Australia
The 2013 Nordic ALS/MND Meeting (YouTube Video)
Gudjon Sigurdsson, MND Association of Iceland & Jens Spanfelt, Muskelsvindfonden (Denmark)
BONUS: MND Association of Iceland Awareness Campaign with Gudjon Sigurdsson (YouTube Video)

2013 Allied Professionals Forum
Read the 2013 APF Programme and Abstract Booklet here.
All presentations have been made available by our presenters and appear below.  For each presentation, you can click the title to watch the presentation on YouTube or, if you choose, download the PowerPoint as a stand-alone file by clicking the separate PowerPoint link.
If you wish, you can browse all of the APF presentation videos at once on the Alliance's 2013 APF YouTube Playlist.
Withdrawal of NIV at the Patient's Request in ALS/MND: Exploration of the Issues Related to Communication
Christina Faull, UK
PowerPoint

Bulbar ALS/MND: A Retrospective of Patients Treated with NIV 
Elisa Falcier, Italy
PowerPoint

Optimizing NIV in Patients with ALS/MND Through Serial Monitoring of Nocturnal Oximetry
Deborah Gelinas, USA
PowerPoint
Practical and Cost Effective Solutions for Enabling Independence in ALS/MND Patients Requiring NIV
Melanie Holmes, Australia
PowerPoint

The 'Traffic Light' Approach to Assessing Respiratory Risk and Guiding Decision-Making for Enteral Nutrition in ALS/MND
Melanie Lord, UK
PowerPoint
Multidisciplinary Teams: How Do We Care for Ourselves While Caring for Those with ALS/MND?
Rebecca Axline, USA
PowerPoint
Can Mindfulness Practices Improve Compassionate Care to our PALS and Prevent Burnout of the Health-Care Provider?
Renee Brickler, USA
PowerPoint
Nurse Coaching Experience in an ALS/MND Clinical Centre
Elena Gotti, Italy
PowerPoint
Medical Coaching in Support of ALS/MND Patients and Family Members
Shiri Ben Arzi, Israel
PowerPoint
Young Carers in ALS/MND Families
Laurie Fieldman, USA
PowerPoint
Developing Best Practice Guidelines for Physical Therapy Evaluation of Individuals with ALS/MND
Sara Feldman, USA
PowerPoint
Multidisciplinary Allied Health Practice Guidelines for Physical, Speech and Occupational Therapy in ALS/MND
Jessica ten Broek-Pastoor, The Netherlands
PowerPoint
Recognising the Role of Occupational Therapy in Making Sense of Decision Making in ALS/MND
Malabika Ghosh, UK
PowerPoint
Using Database for Clinical Management
Meraida Polak, USA
PowerPoint
The Pain of Isolation
Sarah Lavendar, UK
PowerPoint
CommuniCARE Project: AAC Apps for People with ALS/MND
Marco Caligari, Italy
PowerPoint
Gadgets and Gizmos II: Continuing to Think Outside the Box
Amber Ward, USA
PowerPoint
Thank you to all of our wonderful presenters and to our Italian member association, AISLA Onlus, whose generous hospitality made the 2013 Meetings possible.
Here is our group photo from the 21st Annual Alliance Meeting, with over 80 members and friends in attendance!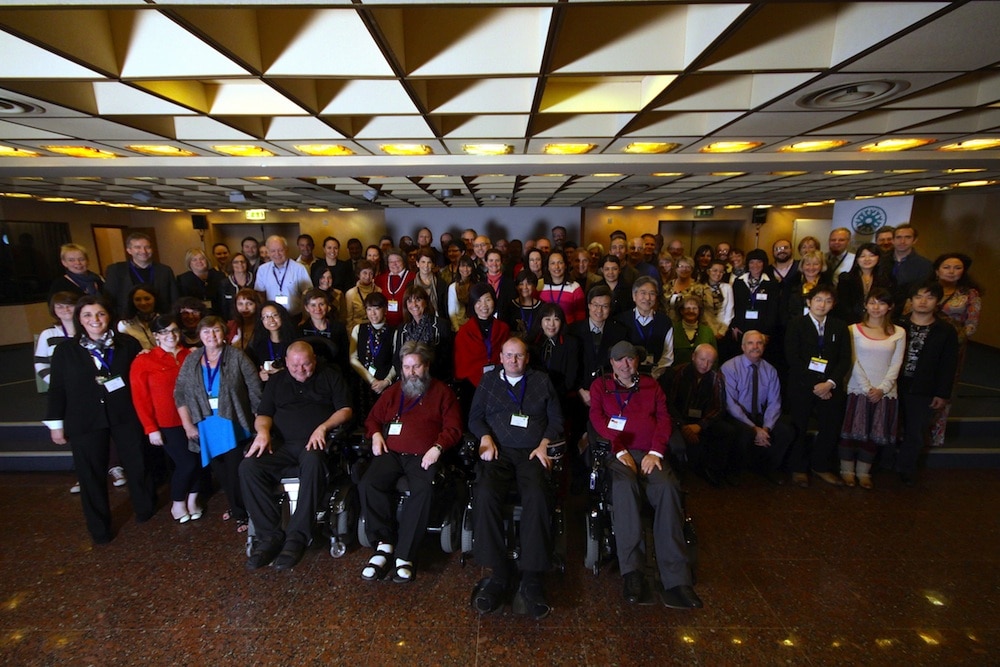 Finally, we would like to recognise the sponsors who generously supported the 2013 Allied Professionals Forum: