Thon Hotel EU/The Square Brussels Meeting Centre, Brussels, Belgium
December 2014
Below, you will find archived presentation materials from the 22nd Annual Alliance Meeting and Ask The Experts session, held on 2-3 December 2014, and the 12th Annual Allied Professionals Forum, held on 4 December 2014.
We have shared materials from all presenters who gave us their permission, and the information is organised by event below.
For the Alliance Meeting, most links will prompt you to download the PowerPoint file used during the presentation; there are also video and media clips where possible.  We were fortunate to have video on-site for the Allied Professionals Forum, so we have provided links to YouTube videos of each presentation.
Feel free to browse, and if you have questions, get in touch with the Catherine Cummings, Executive Director, for more information.
2014 Alliance Meeting
The 2014 Alliance Meeting Programme Agenda was organised by theme. Below, themes appear in bold. Click the title of any presentation to download a PDF of the presentation file or other media used by the presenters.
Special Topic: Ice Bucket Challenge
How Water and Ice Made Supporting ALS Research "Cool" (PDF)
Rob Goldstein, ALS TDI, USA
Alliance Members: Ice Bucket Challenge (YouTube video)
Rachel Patterson, General Manager
Fundraising
Strategic Fundraising (PDF)
Rod Harris, MND Victoria (Australia)
Green Concert: Volunteers and Fundraising (PDF)
Jens Spanfelt, Muskelsvindfonden, Denmark
The Fundraising Program in Argentina (YouTube)
Dario Ryba and Pablo Aquino, ELA Argentina
Awareness and Advocacy
An Exciting Year for ALS Awareness in Italy (PDF)
Christian Lunetta, AISLA Onlus, Italy
ALS Awareness in Japan in 2014 – Achievements and Difficulties (PDF)
Yumiko Kawaguchi, Japan ALS Association (JALSA)
Low Cost/High Quality: A National Awareness Campaign (PDF)
Francisco Tellechea Rotta, Instituto Paulo Gontijo (IPG), Brazil
Challenges To Providing Services
Red Flags for MND: A Step Towards Earlier Diagnosis and Efficient Referral (PDF)
Steven Bell, The MND Association of England, Wales and Northern Ireland
Cultural Challenges in ALS Care (PDF)
Efrat Carmi, IsrALS, Israel
Quality of Care and Compliance of PALS in Russia (PDF)
Gleb Levitsky, Russian Charity ALS Foundation
Challenges To Providing Services (PDF)
Nicole Yarab, The ALS Association, USA
National and Regional ALS/MND Registries
SMART – MND (PDF)
Craig Stockton, MND Scotland
The Australian MND Registry: 10 Years On – Where to from Here? (PDF)
Janet Nash, MND Australia
Partnerships Update
Maximizing the Potential of Partnerships (PDF)
Kathy Mitchell, Canada
Nordic Partnership (PDF)
Video of 2014 Nordic Meeting (YouTube video)
Gudjon Sigurdsson, MND Association of Iceland
Strategic Plan & Working Groups
Overview of Strategic Plan 2012-15 and Report on 2014 Actions and Outcomes (PDF)
Carol Birks, Chairwoman
Services and Programmes
A Pilot AAC Project (PDF)
Bob Bestow, MND Scotland
The Development and Efficiency of the Support Group in Taiwan (PDF)
Yun-Ju Lin, Taiwan MND Association
Help and Hope for PALS (PDF)
Wendy Abrams, The Les Turner ALS Foundation, USA
The Light That Will Never Dim (PDF)
Kiki Qu, Taiwan MND Association
2014 Ask The Experts
Watch video of the 2014 Ask The Experts session, hosted by ALS Liga België, on their website.
You can also download the PowerPoint presentations from our esteemed presenters below:
Project MinE: An International ALS Whole Genome Sequencing Initiative, Professor Leonard van den Berg, Professor of Neurology and Director of the Netherlands ALS Center, University Medical Center Utrecht
Research Programs In Light Of The Ice Bucket Challenge, Dr. Lucie Bruijn, Chief Scientist, The ALS Association
Clinical Trials From Mouse To Man: Pitfalls of Translating Promising Studies, Dr. Orla Hardiman, Professor of Neurology, Trinity College Dublin
2014 Allied Professionals Forum
Read the 2014 APF Programme and Abstract Booklet here.
All presentations have been made available by our presenters and appear below.  For each presentation, you can click the title to watch on YouTube.
If you wish, you can browse all of the APF presentation videos at once on the Alliance's 2014 APF YouTube Playlist.
About the International Alliance of ALS/MND Associations
Carol Birks
Executive function disorders: Engaging the team
Laurie Sterling, USA
To do or not to do? The conundrum the therapist faces in advising level of "doing" in ALS/MND
Helen Carey, UK
Role of the speech-language therapist in the multidisciplinary ALS/MND clinic: Insights learned and shared
Emily K. Plowman, USA
Developing an outreach service to set up NIV for patients with ALS/MND in their homes thereby averting hospital admission
Bernie Corr, Ireland
An evaluation of the airway clearance adjuncts prescribed in an Irish ALS/MND multidisciplinary clinic
Rachel McConnell, Ireland
Examing the impact of YouTube to teach patient care skills in ALS/MND
Beth Stephens, USA
Looking beyond the drug: A study exploring the experiences of ALS/MND patients attending a drug trial
Malabika Ghosh, UK
Care services navigators: Supporting personalisation and choice for people with ALS/MND
Pauline Matheson, UK
Developing a comprehensive and candid guide on end-of-life decisions for people with ALS/MND
Kaye Stevens, UK
Emotional legacies: What children need to know and how leaving it for them assists closure
Gabrielle Eirew, Canada
Compassion fatigue and burnout: Supporting staff with coping strategies
Sara Jane Murray, UK
Helping staff and volunteers to deal with compassion fatigue
Kathleen O'Hara, UK
The end-of-life experience of people with ALS/MND: Bereaved family carers' accounts
Moira O'Connor, Australia
Exploring experience and awareness of bereavement support in family carers of people with ALS/MND
Mary O'Brien, UK
Equipment utilization in the ALS/MND population: Trends and timing
Sara Feldman, USA
Eyes That Speak: Social inclusion, work dignity and life quality for ALS/MND patients
Eduardo Jauregui, Argentina
ALS digitalk (ALS/MND and communication)
Aline Ollevier, Belgium
Use of a myoelectric orthotic to enhance functional performance in persons with ALS/MND
Amber Ward, USA
Thank you to all of our wonderful presenters and to our Belgian member association, ALS Liga België (The ALS League of Belgium), whose generous hospitality made the 2014 Meetings possible.
Here is our group photo from the 22nd Annual Alliance Meeting, with over 100 members and friends in attendance!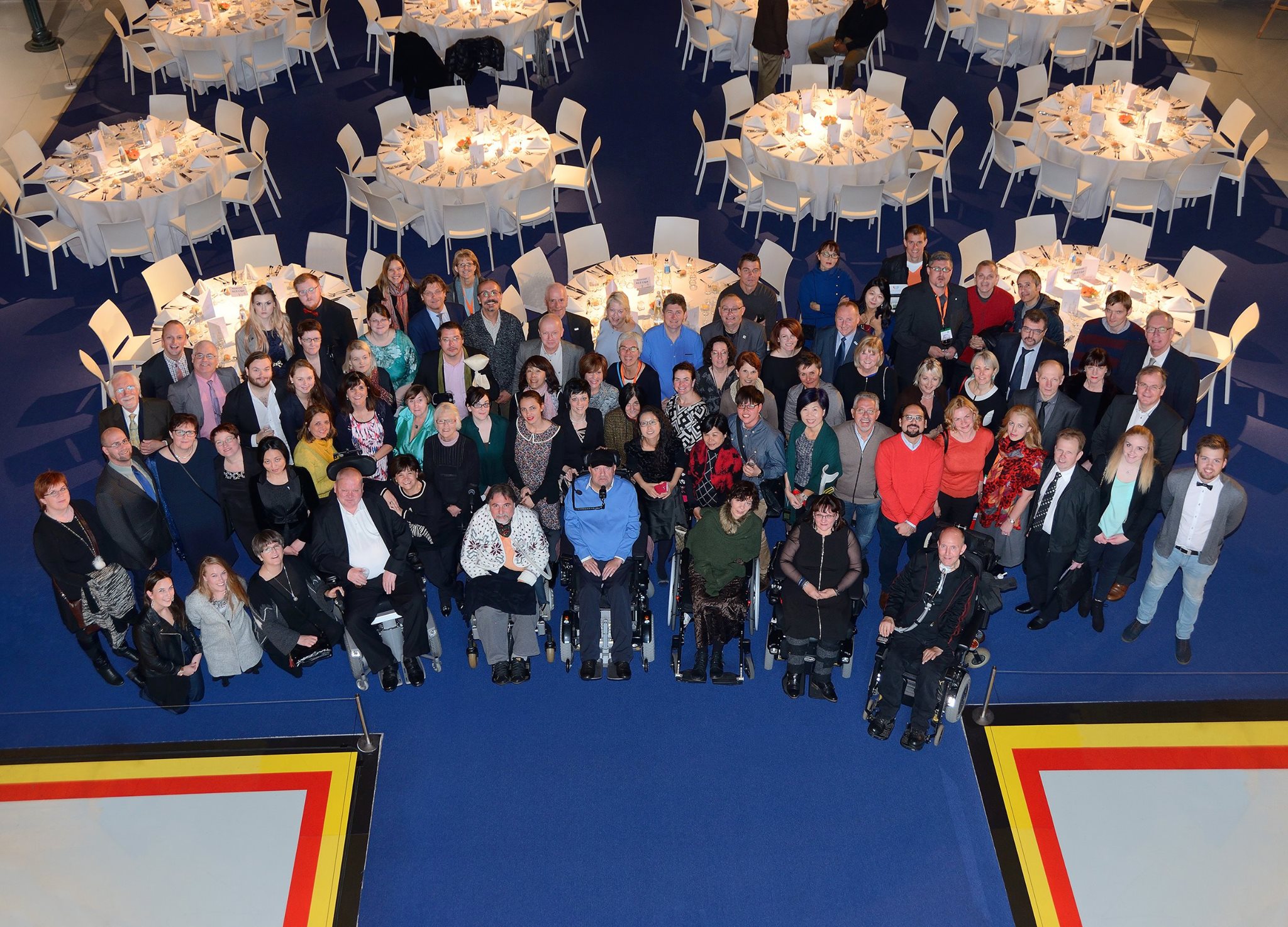 Finally, we would like to recognise the sponsors who generously supported the 2014 Alliance Meeting and Allied Professionals Forum: