JW Marriott Grande Lakes, Orlando, FL, USA
December 2015
Below, you will find archived presentation materials from the 23rd Annual Alliance Meeting and Ask The Experts session, held on 8-9 December 2015, and the 13th Annual Allied Professionals Forum, held on 10 December 2015.
We have shared materials from all presenters who gave us their permission, and the information is organised by event below.
Feel free to browse, and if you have questions, get in touch with the Catherine Cummings, Executive Director, for more information.
2015 Alliance Meeting
View or download the 2015 Alliance Meeting Agenda and Abstract Book.
For each presentation, you can click the title to watch on YouTube.
If you wish, you can browse all of the Alliance Meeting presentation videos at once on our 2015 Alliance Meeting YouTube playlist!
Opening Remarks from the GM: Year In Review – Rachel Patterson, General Manager
Argentine Seawater Bucket Challenge – Pablo Aquino, The ALS Association of Argentina
Orchestrating Understanding: From Ice to Icons – Janet Nash, MND Australia
Making the Right Investment Decisions – Sally Light, MND Association of England, Wales and N Ireland
How Does ABrELA Allocate Funding and Resources? – Tatiana Mesquita e Silva, ABrELA
Challenges Faced to Provide Services for ALS/MND Patients in India – Dr. Hemangi Sane, Asha Ek Hope Foundation
Social Media and Online Services In Building Multidisciplinary Team – Dr. Lev Brylev, Martha-Mary Medical Center "Miloserdie"
Opportunities and Challenges – Wang Shunzhen, Beijing Oriental Rain ALS Care Center (BORACC)
Virtual Support Groups – Jennifer Klapper, The ALS Association (Philadelphia Chapter)
Supporting the Children of PALS – Jodi O'Donnell-Ames, Hope Loves Company
Caring for Caregivers – Marcela Santos, ACELA
Fleet of Equipment and ALS Centers – Christine Tabuenca, ARSLA
Care for PALS Action – Bingcang Yan, Shaanxi ALS Association
The Future of Communication for ALS/MND – Aki Yuki, Japan ALS Association
The Partnership Programme – Sara Feldman, ALS Hope Foundation and Efrat Carmi, IsrALS
Baltic Bridge – Kathy Mitchell (PowerPoint only – coming soon!)
Relay of Love – Kiki Qu, Taiwan MND Association
Introducing the Strategic Plan for 2016 and Beyond – Carol Birks, MND Australia (Chairwoman)
View the Strategic Plan for 2016-2019
View a review of outcomes for the Strategic Plan 2012-2015
Scientific Update – Dr. Terry Heiman-Patterson (PowerPoint only – coming soon!)
City Swim Presentation – Gorrit-Jan Blonk, ALS Netherlands
Invitation to Dublin 2016 – Aisling Farrell, Irish Motor Neurone Disease Association
2015 Ask The Experts
Watch video of the 2015 Ask The Experts session, hosted by The ALS Association! This session was live-streamed to accommodate people living with ALS/MND and their caregivers abroad, and questions were accepted through social media. A summary of the session appears below.
Lucie Bruijn, PhD, MBA, The ALS Association's Chief Scientist, discusses some of the exciting new research projects supported by The ALS Association, including how collaboration with academia and industry partners has contributed to a better understanding of the disease and facilitated preclinical trials and studies. She then facilitates a discussion with a panel of international researchers:
Richard Bedlack MD, PhD, MS. Dr. Bedlack is Associate Professor of Neurology and Director, Duke ALS Clinic. He also leads ALS Untangled, a network of physicians and researchers investigating alternative and off-label treatments for ALS. Dr. Bedlack's recent research also resulted in the identification of a newly associated gene, which is thought to play a role in inflammations and damaged cell clearance associated with ALS.
Michael Benatar, MD, PhD. Dr. Benatar is Professor of Neurology and the Chief of the Neuromuscular Division in the Department of Neurology at the University of Miami. He is the first incumbent of the Walter Bradley Chair in ALS Research. With a focus on familial ALS and genetics, Dr. Benatar leads the CReATe Research Consortium which investigates the relationship between phenotype and genotype in ALS and the development of biomarkers that might be useful in therapy development.
Ammar Al-Chalabi, MD. Professor of Neurology and Complex Disease Genetics, and Director of King's MND Care and Research Centre at King's College in London. Dr. Al-Chalabi's research focuses on understanding what causes or modifies ALS as a way of finding new, effective treatments. His studies involve genes, lifestyle and the different clinical patterns of ALS. Dr. Al-Chalabi's current research studies investigate the genetic susceptibility in ALS, and the relationship between cognitive changes and physical symptoms in ALS.
2015 Allied Professionals Forum
View or download the 2015 APF Programme and Abstract Book.
All presentations have been made available by our presenters and appear below.  For each presentation, you can click the title to watch on YouTube.
If you wish, you can browse all of the APF presentation videos at once on the Alliance's 2015 APF YouTube Playlist.
About the International Alliance of ALS/MND Associations – Carol Birks, Australia
Caregivers' academy: A MULTIdisciplinary support program – Tanya Peterson, USA
Developing a carer-led approach for support – Steve Bell, UK
Identifying and addressing the support needs of family caregivers of people with ALS/MND: a feasibility study – Samar Aoun, Australia
Communicating with PALS/MND that have dementia – Tammy Soukup, USA
Transitioning a research tool into clinical practice: Use of the Edinburgh cognitive and behavioral ALS/MND screen in ALS/MND clinic – Judy Lyter, USA
Parental disclosure of familial ALS/MND diagnosis and mutation status to children: Perceptions of young-adult offspring – Samantha Neumann, USA
Psychosocial benefits of participating in research: A supportive tool for ALS/MND young carers – Melinda Kavanaugh, USA
Burnout can happen to patients too: How to address in the clinical setting – Rebecca Axline, USA
From subjective to objective: Useful tools for initiating end-of-life discussions with ALS/MND patients – Shivangee Thorne, USA
PDA (Personal Death Awareness) – Laurie Fieldman, USA
What ALS/MND health professionals need to know about today's respiratory therapies – Jennifer Armstrong, USA
Improving the respiratory referral and assessment pathway – Julie Young, USA
Updates in the evaluation and treatment of airway protection and dysphagia in ALS/MND – Emily K. Plowman, USA
Improving the eating experience for people with ALS/MND – Crystal Collinge, Canada
Anticipatory approaches to wheelchair provision – Karen Pearce, UK
Assistive equipment use by people with ALS/MND in Australia – Karol Connors, Australia
Voice banking: Just do it! – Jennifer Benson, UK
Using mainstream technology as a communication system for people with ALS/MND – Alisa Brownlee, USA
Thank you to the ALS Hope Foundation for their continued support of the Allied Professionals Forum!

Thank you to all of our wonderful presenters and to our member host, The ALS Association, whose generous hospitality made the 2015 Meetings possible.
Here is our group photo from the 23rd Annual Alliance Meeting, with over 80 members and friends in attendance!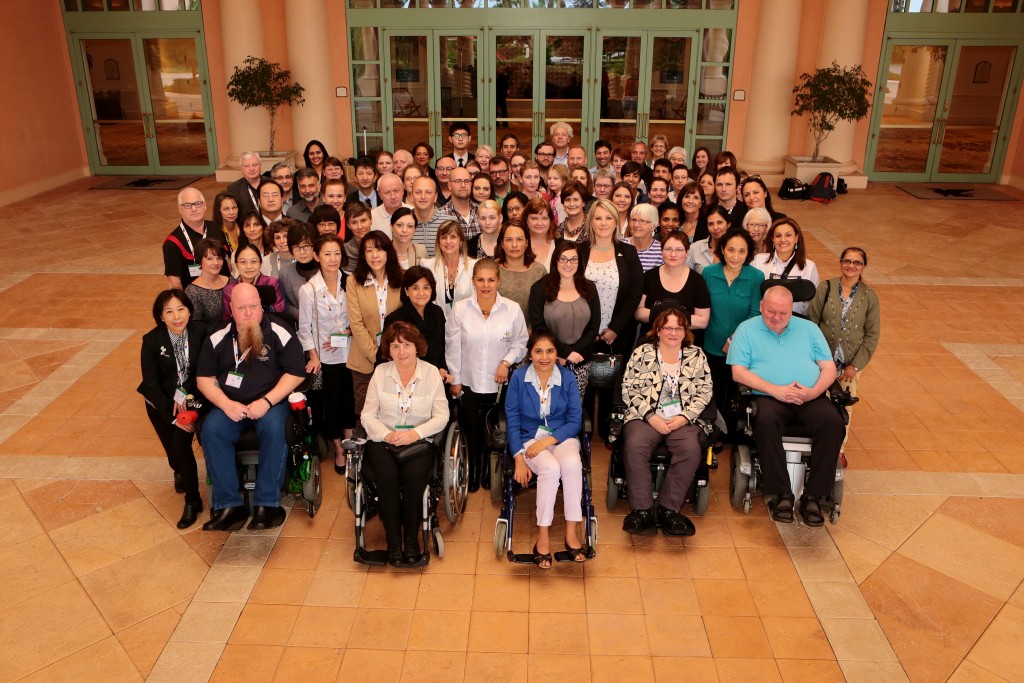 Thank you to our 2015 Platinum Sponsor, Cytokinetics! As a leader in muscle biology research, Cytokinetics is dedicated to its mission of improving the lives of people confronting devastating diseases of impaired muscle function.