Convention Centre Dublin, Dublin, Ireland
December 2016
Below, you will find archived presentation materials from the 24th Annual Alliance Meeting and Ask The Experts session, held on 4-5 December 2016, and the 14th Annual Allied Professionals Forum, held on 6 December 2016.
We have shared materials from all presenters who gave us their permission, and the information is organised by event below.
Feel free to browse, and if you have questions, get in touch with Catherine Cummings, Executive Director, for more information.
2016 Alliance Meeting
View or download the 2016 Alliance Meeting Agenda and Abstract Book.
For each presentation, you can click the title to watch on YouTube.
If you wish, you can browse all of the Alliance Meeting presentation videos at once on our 2016 Alliance Meeting YouTube playlist!
Opening Remarks from the GM: Year In Review – Rachel Patterson, General Manager
Beyond Awareness Gaps – Hiroki Okabe, Japan ALS Association
The Cost of Achieving Your Goals: Assistive Technology Program in Israel – Efrat Carmi, IsrALS
A Comprehensive Information and Education Resource for People with MND, their Carers, Health and Community Care Providers – Gina Svolos, MND Australia
New Challenges to Our Association – Alessandra Dorca, ALS Pro-Cura Association
ACELA: A Vision of Hope – Rocio Reyes, ACELA, Colombia
Life Is Now – Gudjon Sigurdsson, MND Iceland
A Phased Shift in MND Care in Scotland – Craig Stockton, MND Scotland
Victories and Partnerships – Tatiana Mesquita e Silva, ABrELA
Local Fundraising for Project MinE – Gorrit-Jan Blonk, ALS Netherlands
Using the MND Association's Experience to Promote Optimal Care and Support in Russia – Anna Kassianova, Martha-Mary Medical Centre "Miloserdie"
The South African MND Caregiving Experience: Lessons Learned from a Cross-Country Collaboration – Melinda Kavanaugh, University of Wisconsin-Milwaukee
First Ever ALS Student Exchange – Jodi O'Donnell, Hope Loves Company
The ALS Analyzer Mobile App: Engaging PALS in the Development of New ALS Monitoring Tools – Idit Ron, Prize4Life
PULSE – Christine Tabuenca, ARSLA
Precision Medicine: How Can It Help Advance the Discovery of ALS Subtypes and Speed Drug Development? – Rob Goldstein, ALS Therapy Development Institute
Meeting the Research Communication Challenge: Our Experience – Sally Light, MND Association of England, Wales and N Ireland
Scientific Update – Dr. David Taylor, ALS Canada
ALS Investment Fund – Gorrit-Jan Blonk, ALS Foundation of the Netherlands
Keys to Strong, Transparent Governance – Andrea Pauls Backman, Les Turner ALS Foundation
2016 Strategic Planning Workshop: Outcomes (No video available, click to download presentation PDF)
2016 Ask The Experts
Watch video of the 2016 Ask The Experts session, hosted by the Irish Motor Neurone Disease Association! Thank you to the ALS Association for sponsoring the live-stream. This session was live-streamed to accommodate people living with ALS/MND and their caregivers abroad, and questions were accepted through social media. A summary of the session appears below.
Watch the YouTube video of the 2016 Ask the Experts session: 2016 Ask the Experts
Clinical Trials in ALS/MND: Where Are We Now? Dr. Jeremy Shefner, MD, PhD Kemper and Ethel Marley Professor and Chair of Neurology and Senior Vice President of Barrow Neurological Institute
Stem Cells: The Hope and the Hype Dr. Jonathan Glass, MD Professor of Neurology and Pathology at Emory University School of Medicine; Director of the Emory ALS Clinic
Project MinE: The New Genetics of ALS/MND Dr. Jan H. Veldink, MD, PhD Professor of Neurology and Neurogenetics and Head of the Human Neurogenetics Unit at University Medical Center-Utrecht
Extended Q&A Session
2016 Allied Professionals Forum
Thank you to all of our wonderful presenters and to our member host, Irish Motor Neurone Disease Association, whose generous hospitality made the 2016 Meetings possible.
Here is our group photo from the 24th Annual Alliance Meeting, with 110 members and friends in attendance!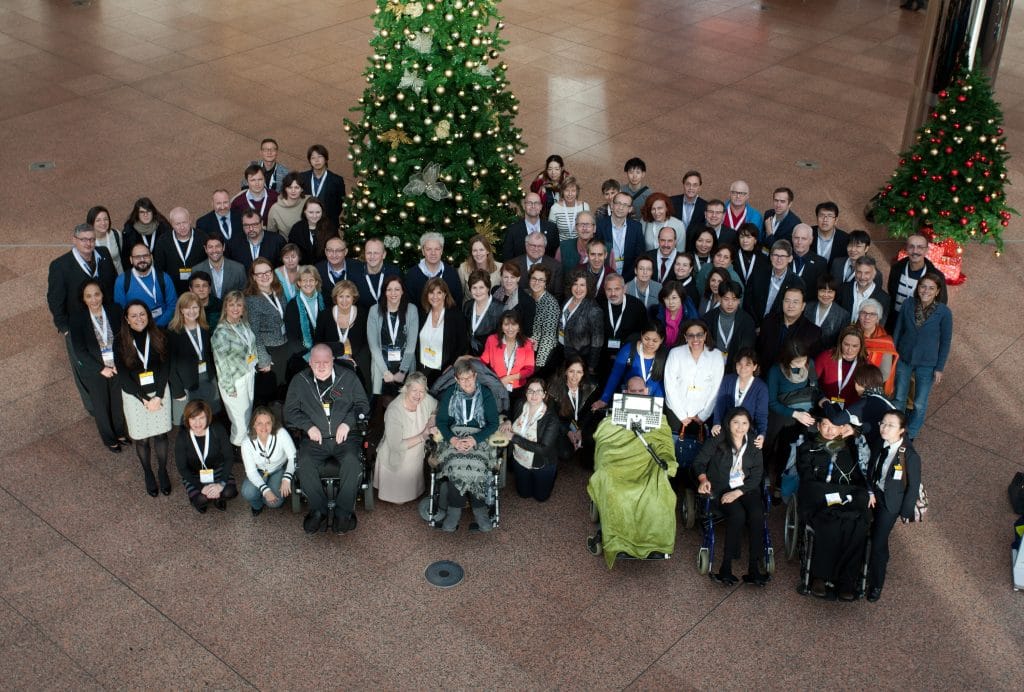 Thank you to our 2016 Platinum Sponsor, Cytokinetics! As a leader in muscle biology research, Cytokinetics is dedicated to its mission of improving the lives of people confronting devastating diseases of impaired muscle function.