Our General Manager, Rachel Patterson, had the privilege of attending the 15th Annual Meeting of the Northeast ALS Consortium (NEALS) on October 4-7, 2016 in Clearwater Beach, Florida.
NEALS' mission is to translate scientific advances into new treatments for people with ALS/MND as rapidly as possible. At this year's meeting, researchers from North America (and some from abroad) presented on important advances in clinical ALS/MND research. View a schedule of the NEALS events here.
Some of the important research presented in 2016 included a promising update on the Brainstorm cell therapy trial, presented by Dr. James Berry; initial results showing that Botulinum Toxin B (mysticol) may be an effective tool to combat sialorrhea in ALS/MND, presented by Dr. Carlayne Jackson; and important recommendations from clinicians and biostatisticians on how we might improve the ALSFRS-R measurement tool or carefully begin to use historical controls to reduce the size of the placebo group in double-blind clinical trials.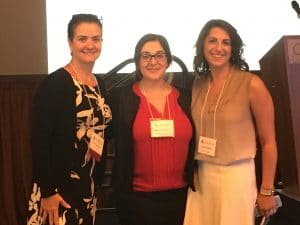 Rachel also had the opportunity to connect with member delegates while in Clearwater. Calaneet Balas of The ALS Association and Sara Feldman of the ALS Hope Foundation were in attendance, along with many other Alliance friends, supporters and industry partners.
Thanks to the Co-Chairs of NEALS, Dr. Terry Heiman-Patterson and Dr. Jonathan Glass, for extending Rachel a generous invitation to attend NEALS, and for hosting an informative, collaborative research conference. We look forward to next year!
If you'd like to see our specific updates from NEALS, check out the Alliance's twitter feed.