This August, our General Manager (Rachel Patterson) and the Chairwoman of the Board (Carol Birks) had the opportunity to travel throughout the Asia-Pacific region. During their journey, they visited our member associations, toured ALS/MND clinics, learned about the services available in other parts of the world and connected with the regional ALS/MND community. Here are some highlights from their trip!
Kuala Lumpur, Malaysia (August 18-23)
Rachel and Carol attended the PACTALS Meeting at the Kuala Lumpur Convention Centre, which coincided with the 15th Asian and Oceanian Congress of Neurology. There, they caught up with representatives from members The Japan ALS Association, MND Malaysia, Asha Ek Hope Foundation, MND Australia and more. They also met friends from Indonesia and Myanmar who are working to establish associations and become part of the Alliance's network.
After PACTALS, Rachel and Carol spent extra time in Kuala Lumpur visiting the offices of member MND Malaysia, an association that joined the Alliance as a Full Member in 2015. At the university hospital in Kuala Lumpur, Rachel and Carol toured the neuro-palliative unit where people with ALS/MND have access to compassionate care during hospital admissions. They learned from MND Malaysia's clinical team, who are hoping to continue developing multidisciplinary services for people with ALS/MND in their country. They also got to know the network of volunteers that supports the team and helps MND Malaysia raise awareness and funds.
They were joined by representatives from a developing association in Indonesia, led by organizer Dr. Premana Premandi, a person living with ALS/MND. This meeting helped facilitate cooperation between the Indonesian group and Alliance members MND Australia and MND Malaysia, who can provide resources and mentorship.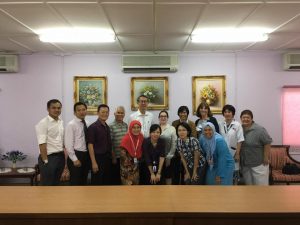 Seoul, South Korea (August 24-27)
From Kuala Lumpur, Rachel and Carol flew to Seoul, South Korea. There, they visited a clinic at Hanyang University Hospital, directed by Dr. Seung Hyun Kim. They met the multidisciplinary ALS/MND clinical team and learned about cutting-edge treatments being developed in South Korea. They also shared the work and vision of the Alliance with the clinical team.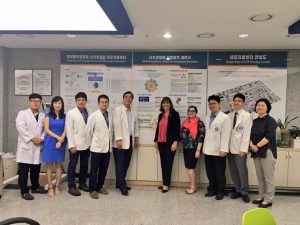 The next day, Rachel and Carol had the privilege of meeting with representatives of the Korean ALS Association (KALSA), led by
President Dr. Jung-Joon Sung. They learned more about the organization's work to support people with ALS/MND in Korea, fund research efforts and raise public awareness. They also invited KALSA to become an active member of the Alliance. We are happy to report that KALSA's membership application is now in-progress, and we hope to welcome them to the Alliance soon! Maybe we will even see our new friends in Dublin.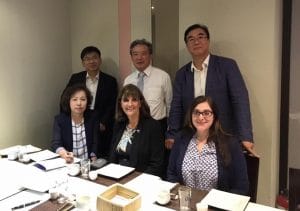 On the final day of their visit to Seoul, Carol and Rachel attended an educational patient conference hosted by Dr. Kim and his team at Hanyang University Hospital and were honored to connect directly with people living with ALS/MND and their caregivers.
Taipei, Taiwan (August 28-30)
Next, Rachel and Carol were off to Taipei, where they were welcomed by Board Member Kiki Qu and her colleagues from the Taiwan MND Association. At Taipei City Zhongxiao Hospital, they had the privilege of meeting with Tom Chen, the President of the Taiwan MND Association (also Kiki's husband), along with hospital administrators, clinicians, media representatives and members of the city government. You may read a full list of the honorable attendees here.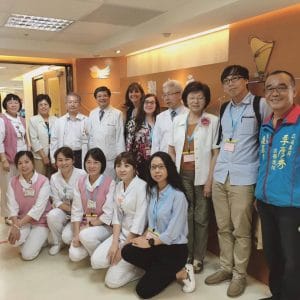 Rachel delivered a formal presentation on the work of the Alliance, while Carol presented on the work of MND Australia. Then, Rachel and Carol learned about how ALS/MND services are delivered in Taiwan and the role of the Taiwan MND Association in patient care. They also learned about the association's holistic and spiritual services for people with ALS/MND, which help them achieve their goals and find hope and peace.
While at Taipei City Hospital, Rachel and Carol also had the opportunity to visit the multidisciplinary ALS/MND clinic. They met a dedicated clinical team and learned more about all the services and programs available to people living with ALS/MND. They saw firsthand how the efforts of the clinical team, paired with the advocacy work of the Taiwan MND Association, have improved care and quality of life for people with ALS/MND in Taiwan.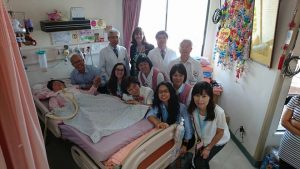 During their visit, Rachel and Carol also had the honor of meeting with people with ALS/MND and their families. They had a chance to see and tour special rooms at Taipei City Hospital that have been outfitted to meet the needs of people with ALS/MND during hospital stays. Their time at the hospital was covered by Taipei Times, China Times and HiNet as well as the local government.
That afternoon, Rachel and Carol visited the offices of the Taiwan MND Association in downtown Taipei and heard the stories of staff members, volunteers and people living with ALS/MND and their carers, who are all part of the association's network of supporters.
Perth, Australia (August 31-September 2)
After a busy visit in Taipei, Rachel and Carol traveled to Perth, Australia, where they were met by their colleague Pam Aston from the MND Association of England, Wales and Northern Ireland and a local representative from the state association of Western Australia. The group toured the Perth Convention and Exhibition Centre (PCEC) and nearby accessible hotel rooms, scouting Perth as a potential venue for the 2019 Alliance Meeting and Symposium on ALS/MND, hosted by MND Australia. Stay tuned for more information on upcoming venues!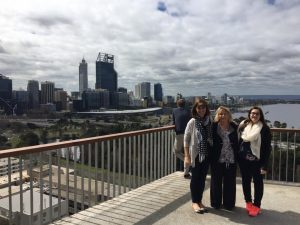 Rachel and Carol would like to thank their generous hosts in every city. Their travel across the Asia Pacific region allowed them to build community and learn more about the work our members do across the world. Thank you for being a part of our Global Team! #ALSMNDWithoutBorders