The Partnership Programme has been developed to support the objectives of the Alliance and to assist organisations in achieving a standard of good practice in the management of ALS/MND. The Partnership Programme has become a cornerstone of the International Alliance. Read about some of our members' partnership success stories below.
The Annual Alliance Meeting provides opportunities for members to present information about the programmes, resources and models of care available in their countries. These presentations spark discussion, ideas the development of partnerships and collaborations.
On our members only forum, we also encourage partnerships. The "Needs and Offers" topic in our forum encourages members to identify any 'needs' their organisations may have while, in turn, members are encouraged to 'offer' their skills, programmes and resources. With support from key individuals and organisations, this has led to the organic development of partnerships, outreach programmes and inter-organisational support and sharing. To access the members only forum, you must register or log in.
We give Alliance members and others who have developed partnerships or outreach programmes the opportunity to share their outcomes during the Annual Alliance Meeting. This once again encourages and supports the establishment of further partnerships within and between Alliance members and also between Alliance members and key ALS/MND professionals.
The Alliance has developed a regional partnership and mentor contact list. This list provides contact details for members and health professionals interested in developing collaborations in their region. Please contact the Alliance for more details: alliance@als-mnd.org.
Many partnerships flourish without the need for funding or are supported, both financially and in-kind, by one of our member associations. Funding is also available to support partnership travel and outreach programmes through the Alliance Support Grant. The Alliance Support Grant also provides funding to assist members with travel costs to attend the Annual meeting and to support new and emerging organisations.
If you would like to support the Partnership Programme, you can donate here.
Success Stories:
Successful projects to date have involved professional knowledge exchange and capacity building in relation to:
Political advocacy
Public awareness and fundraising
Support for people with ALS/MND and family (including equipment)
Professional education and information
A key to success for many of the outreach and partnership programmes has been the creation of sustainable connections and methods of ongoing support between those with expertise and those who have an identified need. The programme has grown and flourished through the provision of an information exchange platform and the collective commitment of Alliance members to improve quality of care for people with ALS/MND worldwide and to educate and support professionals and volunteer groups in developing countries.
Feel free to toggle through the stories below that highlight just a few of the successful collaborations that have come about through the International Alliance!
Hope Loves Company Travels to Iceland
by Jodi O'Donnell Ames
On 16-20 July, 2017, representatives of Hope Loves Company visited the MND Association of Iceland. This travel was supported by an Alliance Support Grant from the Alliance's Partnership Program along with contributions from other generous sponsors.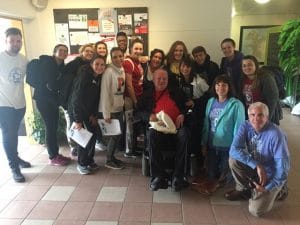 Hope Loves Company's mission is to provide services and support to children and teens affected by having a loved one with ALS/MND.
During their trip to Iceland, "Ambassadors of Hope" volunteers from HLC introduced their programs, including "Camp HLC," and spoke about their personal experiences with Icelandic PALS and families. Jodi O'Donnell-Ames, the Founder of HLC and a licensed massage therapist, also gave a massage demonstration to the Icelandic hosts. HLC Ambassadors and Icelandic families had social time to share common experiences and express gratitude – warm and fuzzy!
As an outcome of the meeting, the MND Association of Iceland is brainstorming to create new programs for children and teens in Iceland. HLC has invited young adults from Iceland
to visit their Camp HLC event in New Jersey, USA, in May of 2018, to learn more. HLC families will host Icelandic young adults to foster ongoing dialogue and collaboration.
Mackenzie Andreson, a 20-year-old Penn Sate student and HLC Ambassador, shares her personal experience of time in Iceland: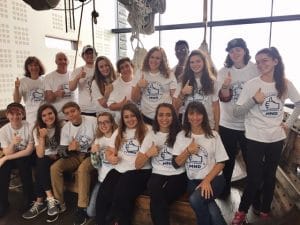 "Being Hope Loves Company's Young Ambassador and being able to spread my experience and story, not only nationally, but now globally, has helped me to grow emotionally and help others. I absolutely loved having the opportunity to speak to MND Felagid a Islandi, 1/3 of Iceland's ALS patients and their families. It was an incredibly valuable experience which I will carry with me for the rest of my life. I have even formed a friendship with Aron, a young man who lost his mom to ALS, from Iceland. He is now part of the HLC family and will be coming to New Jersey for Camp HLC this coming May. I think this trip truly captures what the International Alliance of ALS/MND Associations is all about: connecting, through ALS/MND, globally. I cannot wait to see where Hope Loves Company gets to travel to next. I couldn't be more excited to continue to meet those around the world who share this commonality with me, and are determined to advocate for a cure."
She also wanted to thank Jodi O'Donnell-Ames, Gudjon Sigurdsson, Petur Eggerz, the MND Association of Iceland, the Alliance, and the many other supporters who helped make this trip possible, including Reykjavik Energy, Elding Whale Watching, Vikingaheimar, Blue Lagoon Iceland, Petur Eggerz and Velferdarraduneyti.
Kathy Mitchell and Richard Sloan Visit the Live Now Foundation Team
by Kathy Mitchell
On 10-26 February, 2017, Kathy Mitchell, a retired nursing professor from Algonquin College in Ottawa, Canada, and Dr. Richard Sloan, a retired physician who served as Director of the Weldmar Hospice in Dorchester, England, visited the ALS/MND teams in St. Petersburg and Moscow. Their collaborative effort with Dr. Lev Brylev and the Live Now Foundation in Russia was supported by an Alliance Support Grant for partnership travel.
Kathy and Richard's goals were to share professional expertise related to holistic palliative care, increase skills and knowledge and change attitudes to improve quality of life for patients and families and raise awareness of the complex needs of people with ALS/MND. Kathy and Richard had been asked specifically to teach about multidisciplinary care, patient autonomy and advance care planning–subjects not generally considered in the Russian health care system.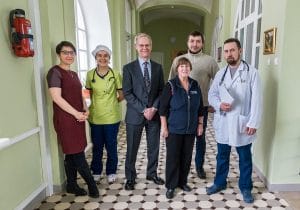 In St. Petersburg, a one-day interactive workshop was an opportunity to communicate key issues related to patient autonomy and family and patient assessment.
In Moscow, Kathy and Richard worked with the team to complete home visits with nurse, doctor and translator. They discussed patient assessment and potential interventions with the team. A series of lectures open to health care staff in other departments gave an opportunity for a discussion of autonomy, mindfulness, and proactive self-care for families and the health care team.
On 18 February, the Live Now Foundation organized a full-day conference for patients' families and health care professionals to discuss new research, concepts of palliative care, patient support issues and to encourage collaboration between the St. Peterburg team and their Moscow counterparts.
Richard and Kathy established sustainable references by donating print and video resources as well as discussing reliable websites for both patients and health care professionals. They also explored resources to support the psychosocial, emotional and physical needs of families and children.
Public awareness was also increased, with media coverage during the conference.
Lev Brylev, Kathy Mitchell and Richard Sloan are advocates to improve the quality of care for people with ALS/MND and their families in Russia. They are seeking individual feedback from team members regarding change of practice since their visit to evaluate the degree to which the goals of this project have been met. They are committed to continuing the support needed to work toward a world free of ALS/MND!
ALS Liga Belgie and Asociacion ELA Argentina
We are proud that our two member associations, Asociacion ELA Argentina and ALS Liga België, have engaged in a partnership to exchange vital equipment for people with ALS/MND. Learn more below!  
By Dario Ryba
With great pride and emotion, the Asociacion ELA Argentina announces that on 21 February we were finally able to pick up the 10 electric wheelchairs generously donated and shipped by ALS Liga Belgie. The wheelchairs had been delayed in customs for 3 months.
It was a long, expensive and exhausting process fighting against local bureaucracy, but we finally received them. Now our patients will be able to enjoy a better quality of life.
We will organize an event along with the Ministry of Social Development that will take place between the end of April and beginning of May to assign the 10 chairs to specific PALS.
Thank you, ALS Liga Belgie, for this extremely valuable donation and permanent support!
Watch: ALS Liga Belgie sends electric wheelchairs to Asociacion ELA Argentina
Japan ALS Association and Taiwan MND Association
by Yumiko Kawaguchi
The Request
It has been almost six years since Japan was struck by a once in a millennium 9.1 magnitude earthquake in March 2011. The historic earthquake triggered a massive tsunami which in turn caused nuclear power plant reactor accidents along the coast, including Fukushima. It was the largest earthquake in Japan's history.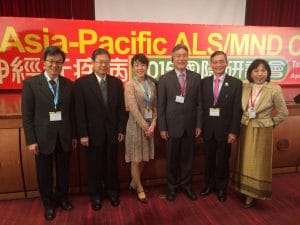 A vast area of northeast Japan was damaged. From the day after the earthquake Japan faced severe shortages of gasoline and water. All of the ports on the pacific coast were damaged so tankers could not dock to deliver critical supplies. Within two weeks hygiene and nutrition had become serious problems, especially for those living with ALS.
Many ALS/MND patients were evacuated from hospitals in the affected areas. JALSA received calls from a neurologist in the disaster area saying that food was almost running out. We couldn't obtain tube-feeding formulas as the factories producing them had been damaged and closed by the effects of the tsunami.
The Response
We asked the Taiwan MND Association for help and they soon sent us 1.46 tons of Ensure by air. This shipment was held up at customs but was thankfully allowed through as a special case after the Taiwan MND Association sent the list of ingredients of Ensure.
This shipment of Ensure allowed JALSA to assist in making sure people living with ALS/MND in the affected areas were able to have tube-feeding formula and to make sure that food would not run out. It was an emergency shipment that eased many lives in a time of disaster.
Japan ALS Association's Suggestions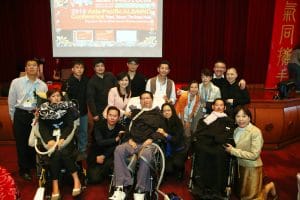 It is very important for the International Alliance of ALS/MND Associations to reach out to member associations in a disaster area as soon as possible and ask what they need to save their patients. The nearest member associations can then help supply what is needed to the association(s) in the disaster area.
It would be very helpful if the International Alliance could raise funds for these activities and facilitate partnerships between countries that could be affected by a natural disaster ahead of time so that they are ready to assist each other when the need arises.
The MND Association and Live Now Foundation
The Request
Sally Light, CEO, MND Association of England, Wales and Northern Ireland (SL): Lev and I met for the first time at the Alliance Meeting in Orlando, and he followed up to say that he was hoping to plan a visit by his team to the UK and would it be possible to see the work of the MND Association. We organised a programme over a number of days which included meeting Association staff but also a visit to an MND Care Centre run by the National health Service.
Dr. Lev Brylev, Director, Live Now Foundation/Martha Mary Medical Centre (LB): The main challenge for us was finding a strategy of expanding from one multidisciplinary team in Moscow to cover more regions. We established the Live Now Foundation in 2015 to separate the medical team dedicated to following patients in Moscow and the foundation to raise awareness, fundraise and facilitate development of the standards of care. We decided to explore the experience of the MND Association.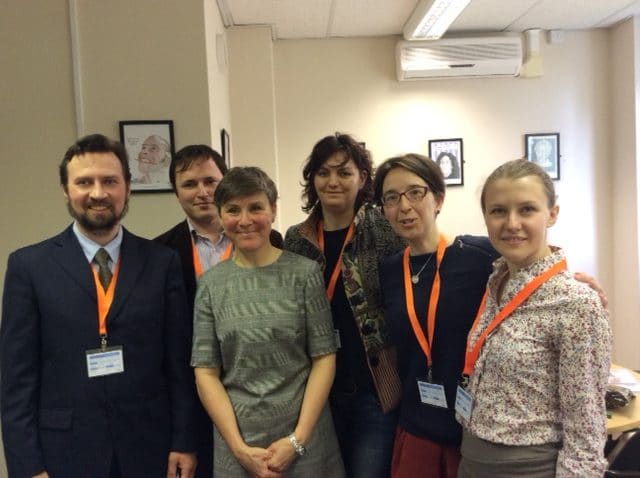 The Response
SL: Through a series of meetings with various members of staff, we shared ideas about our two organisations. The team from Moscow was very interested to think about how they might expand their excellent service in Moscow to other parts of Russia within the limited resources that they have available. We were able to describe our branch and group structure in which local volunteers provide support and befriending and access to Association services right across the three countries that we serve (England, Wales and Northern Ireland). We also shared some of our educational material for people living with MND and their families and other documents for health and social care professionals.
LB: Our visit was organized perfectly. We had meetings with leaders of all departments at the MND Association, and we also visited the clinical center in London. All our colleagues from MND Association were very enthusiastic during our discussions, and they were also very interested in our experience.
The Outcome
SL: The MND Association staff that met the team from Moscow found the whole experience really inspiring. As a relatively big organisation it is important to be regularly reminded of our roots – we began as a small group of people affected by MND 37 years ago. It also helped us to reflect on the work of our branches and groups and all the great things our volunteers do to ensure we have local presence in an affordable way. Hearing the presentation at the meeting in Dublin was a lovely way to be reminded of how working in partnership can bring benefit to both parties.
LB: Actually, this visit was extremely helpful. We realized that the main goal of our newly established Live Now Foundation should be reaching all patients. The MND Association shared very helpful materials. Keeping in mind the experience of the MND Association, in August of 2016 we established new branch of our Foundation in Saint-Petersburg. This trip was very inspirational; we realized that our UK colleagues were more or less in the same situation as us 30 years ago. We should work hard and share information to be successful.
A Caregiving Partnership Between the US and South Africa
by Melinda Kavanaugh
The Alliance  recently sponsored a cross-country family caregiving project between the University of Wisconsin-Milwaukee USA (Dr. Melinda Kavanaugh), Stellenbosh University Capetown, Baragwaneth Hospital Johannesburg (Dr. Andre Mochan), and the MND Association of South Africa (MNDA of SA), directed by Dr. Franclo Henning. This work was supported through funds from the Alliance Support Grant programme.
The goal of the engagement project was to exchange ALS/MND family caregiving data from the US national young caregiving project conducted by Dr. Kavanaugh and to learn from MNDA of SA and South African families in order to develop culturally appropriate caregiving education and interventions for ALS/MND families in South Africa.
The MNDA of SA and Dr. Henning worked with the US team, which included social work students and faculty, to arrange meetings with families in Cape Town, while Dr. Mochan assisted in arranging meetings with families in Johannesburg. In total, 20 families were engaged as a part of the partnership. They were seen both in clinics and in their homes. The families included patients with ALS/MND, their adult caregivers and children between the ages of 8-18 in the home.
Families discussed issues similar to those found in the US project, including the need for equipment, transportation assistance and financial help. Youth discussed the numerous and intense caregiving tasks and felt a strong sense of responsibility for care, even when it impacted school and their own well-being. During the interviews conducted in Capetown and Johannesburg, both parents and youths described the need for in-person support and educational programming – for all family members.
The data collected through this partnership project has both immediate and long-term implications as the MNDA of SA develops care and support resources for families in South Africa and as clinical services and facilities continue to grow. Participating in the project also provided an opportunity for both the US and South African teams to learn from each other and build relationships and collaborations around ALS/MND and caregiving across different cultures and countries.
The collaborators are now planning a symposium next summer to present this project to medical, social work and other allied health professions in South Africa – raising awareness of ALS/MND needs and best care practices for the patient and family.
Thanks to the Alliance for supporting this cross-cultural partnership!
The MND Association and ELA Argentina: A Translation Partnership
by Kaye Stevens, The MND Association of England, Wales and Northern Ireland
The Request:
Early in 2014, Dario Ryba, President of Asociación ELA Argentina (ALS Association Argentina), wanted to provide clear guidance to those affected by MND/ALS in his Spanish speaking community. With help from Pablo Aquino, Secretary, the search was underway.
Dario Ryba said, "Although we found some interesting resources in Spanish speaking countries, we didn't find anything of the magnitude and quality of the MND Association's material."
He wrote to Sally Light, Chief Executive Officer of the MND Association for England Wales and Northern Ireland. They had met at the Alliance Meeting in Milan in 2013, and Dario asked Sally if it would be possible to translate their main guide, Living with motor neurone disease.
The Response:
"We were delighted that another ALS association liked our information," said Sally Light. "Our resources have taken many years to develop and we continue to revise and improve these under a national accreditation called The Information Standard. We felt confident our content was trustworthy, but wanted to ensure any translation would be adapted to match the health and social care systems of the applicable region."
There is always a risk of misleading readers with information sourced from a different country, as health and social care systems differ. However, Dario Ryba was determined. He said, "We believed it was important for our community to have a Spanish version of such a comprehensive and remarkable piece of work."
Guidance about the content of Living with motor neurone disease was provided by the lead developer, Kaye Stevens, Care Information Manager at the MND Association. "We indicated where UK services, systems and legal aspects were emphasised and would need amendment," she explained.
Translating the MNDA guide was a significant challenge for Pablo Aquino, both as a translator and brother of an ALS patient. In his profession, Pablo had translated quite a lot of medicine and research material, but he said, "I'd never translated a document that speaks directly to the patient with such honesty and simplicity, and explains everything from the onset to end-of-life decisions. It was a true voyage of mixed emotions, since I had to keep myself detached from the material, but at the same time it was easy for me to relate to what my brother is going through."
Kaye and Sally were able to meet Dario and Pablo at the Alliance Meeting and Allied Professionals Forum in Brussels, December 2014. "It was fantastic to hear they had not only adapted their translation for regional differences, but for cultural requirements too," said Kaye. "This is when collaboration on information works really well and shows how diverse needs can be met. We would like to thank the Asociación ELA Argentina for taking such care with this publication."
The Outcome:
The official launch of the translated resource happened in March 2015. Pablo Aquino said, "I am very thankful to the MND Association of the UK for giving us the chance to adapt this excellent guide for our community in South America, and to the Asociacion ELA Argentina for entrusting this task to me."
"We were really pleased to be able to partner with the Asociación ELA Argentina to help them create this resource," said Sally Light. "We hope it will be useful to help people find answers to their questions on MND/ALS, but also to help them make difficult decisions. When people are better informed to influence their own care and services, they are more able to live life with MND to the full."
You can find the Living with motor neurone disease guide and other MND Association resources at www.mndassociation.org/publications and the translated resource for Argentina at bit.ly/1Cp8hCR.
And here is a video interview about the project featuring Sally Light and Pablo Aquino, filmed at the 2014 Alliance Meeting in Brussels!
The Nordic Alliance: An Ongoing Partnership
Alliance members the MND Association of Iceland and Muskelsvindfonden (Denmark) became connected through the Alliance and developed a strong regional partnership, drawing in other associations from the region – including those in Latvia and Russia. Over the last decade, they have developed and now annually host the Nordic ALS Conference, a meeting that allows people with ALS/MND, healthcare providers and representatives of ALS/MND associations from all over the Nordic region to meet, share ideas and exchange information on good practice, management of care and organisational management.
Gudjon Sigurdsson, the President of MND Iceland, and Jens Spanfelt, a delegate of Muskelsvindfonden, presented on their long-standing and successful collaboration at the 2013 Annual Alliance Meeting, and their materials can be found in the corresponding archive. Click here to watch video from the 2013 event in Denmark. Click here to watch video from the 2014 event in Iceland. Another Alliance member, Motus Vita, hosted the event in Latvia in 2015. See Kathy Mitchell's report below for more details from this meeting!
Kathy Mitchell Shares Expertise at the 2015 Nordic Conference in Latvia
by Kathy Mitchell, Associate Member, Canada
The 2015 Meeting of the Nordic ALS/MND Alliance was held August 21-23, 2015, in Jurmala, Latvia, hosted by Alliance member Motus Vita. The Chairman of Motus Vita Valerij Rakov welcomed delegates from Russia, Norway, Denmark, Latvia and Canada, as well as patients and families from Latvia. The International Alliance of ALS/MND Associations had supported Motus Vita members to attend the Baltic Bridge meeting in 2014 in Iceland to learn the process of hosting a meeting, and they were able to apply that knowledge exchange as they organized and hosted the 2015 meeting on the Baltic coast.
In planning the Nordic meeting, a call for abstracts was sent to the members of the Alliance, inviting delegates to share expertise and skills which could improve the knowledge of health care professionals. I was the only presenter from North America. As an educator and health care professional retired from Algonquin College in Ottawa, Canada, I was interested in supporting this region as I had done education outreach programs in Estonia and Russia in 2011, with the Alliance's support, and wanted to discuss the progress made as a result of these outreach projects.
During the 2015 Meeting, we heard presentations from neurologists and clinicians from Russia, Denmark, Estonia, Latvia and more. I presented the topic of "Hope and the Use of Mindfulness-Based Stress Reduction for Health Team Members and Patients" and presented a DVD by Jon Kabat-Zinn to the Latvian team for use in their programs.
Discussion continued during lunch and coffee breaks using many translators, including Google Translate, as delegates spoke Russian, Latvian, Norwegian, Danish, English and more. The desire to share ideas was dynamic, and people living with ALS/MND and their families will benefit from this interaction.
On the final day, people with ALS/MND, families and delegates were invited to play as we visited Pure Chocolate factory which was an hour from Jurmala. It was interesting to see the countryside and realize that people in electric wheel chairs have challenges with elevators and access in Latvia.
That evening, we had a wonderful dinner at the Baltic Beach Hotel in Jurmala, and it was a pleasure to share flowers with people with ALS/MND and listen to an excellent concert featuring singers and a saxophonist. It was also fantastic to be able to take people in wheelchairs to the 7th floor of the hotel, where there was a panoramic view to the Baltic Coast and a breathtaking sunset .
The International Alliance of ALS/MND Associations, through the Partnership Programme, has made an impact on the Baltic region. I hope that these collaborative networks will continue to improve the lives of those living with ALS/MND and their families everywhere. Once again I thank the Alliance for their support, without which I would be unable to support these education outreach initiatives.
Helping Latvia's Motus Vita Attend the 2014 Nordic ALS Conference
by Katerina Verbilo, Motus Vita, Latvia
The Request:
The Nordic ALS Alliance made a proposition to Association of people with special needs "Motus Vita" (Latvia) to organize 11th annual Nordic ALS Conference in Jurmala, Latvia, to take place in 2015. This meeting is very significant for ALS/NMD patients, doctors, social workers and related professionals in Latvia. The work on organizing 11th Nordic ALS Conference in Jurmala, Latvia is happening already.
The Nordic ALS Alliance invited the delegates of Motus Vita to attend the 2014 meeting in Reykjavik, Iceland, in order to learn from the events there and invite the members of the Nordic ALS Alliance to Latvia for the next year's meeting.
Motus Vita applied for funding through the Alliance Support Grant's Partnership Programme to help them attend the 10th Nordic ALS/MND Meeting in Reykjavik, Iceland, on August 29-30, 2014.
The Response: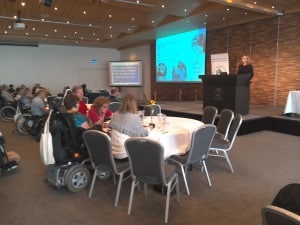 During the partnership visit, the 10th annual Nordic ALS Conference was held in Reykjavik, Iceland. Representatives of Motus Vita participated in this Meeting, listened to lecturers and speakers, introduced Motus Vita to participants, and extended an invitation to all the Meeting's guests and organizers to participate in the meeting in Latvia next year (11th Nordic ALS/MND Meeting in Jurmala, Latvia).
Additionally, the representatives of our association made various contacts with other meeting participants for the purpose of sharing knowledge in the field of ALS/MND and obtaining good practice illustrations from socio-developed countries.
The Outcome:
During the 10th annual Nordic ALS Conference, people with ALS/MND, healthcare providers and representatives of ALS/MND associations from all over the world met together, shared ideas and exchanged information on good practice, management of care and organizational management.
In return, we represented our association and invited all guests and organizers to the 11th Nordic ALS/MND Meeting in Latvia.
The international experience obtained by attending the Nordic ALS Conference is invaluable for us. This permitted Motus Vita's representatives to become familiar with new developments in the field of ALS/NMD and to obtain experience and knowldge. Now we are informed about the recent research in the field of ALS/NMD, rehabilitation, equipment resources and social care.
To address the problems of Latvian ALS/MND patients, we need access to ethical, reliable and successful practices and approved information. Such resources and the answer to the question of how to successfully live with ALS/NMD diagnosis is very necessary for all members of the Association of people with special needs Motus Vita and also for their relatives and assistants.
We should use this new experience and knowledge for the purpose of improving living standards of people with special needs in Latvia, including but not limited to improving the quality of social services for patients with ALS/MND, raising public awareness of ALS/MND and spreading information and awareness to patients with ALS/MND to help them more actively participate in improving their own health. Participating in the Nordic ALS Conference and organizing next year's event will help us to reach every person in Latvia (and, if necessary, in others countries also) who needs such an information – to doctors, social workers, patients, their relatives, etc.
Participating in the Nordic ALS Conference also helps us to provide our members with more modern technology and information about its usage, maintenance and prediction results. All this shall expand our patients' active life and improve their living standards.
Now we are planning to summarize information obtained through the Meeting and prepare it for publicity in Latvia. We are continiously forming special informational source regarding ALS/NMD for Latvia (this source shall include all basically necessary information for ALS/NMD patients, their relatives and assistants, etc.).
MND Australia and MND Malaysia
by Carol Birks, CEO, MND Australia
The Request
MND Australia has actively worked to facilitate the exchange of information and the development of partnerships in the Asia Pacific Region since 2011. In June 2013, I made contact with Khean-Jin Goh, Head, Department of Medicine, Professor, Division of Neurology, Faculty of Medicine, University of Malaya, Kuala Lumpur and Ee Chin Loh, a Palliative Physician with a special interest in neuro-palliative patients. Both had an interest in developing MND collaborations with MND Australia and others in the region and they invited me to present at the Malaysian Society of Neurosciences Annual Meeting in June 2013.
The Response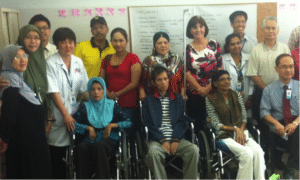 I travelled to Kuching. My presentation "United in the worldwide fight against ALS/MND: Challenges, cooperation, collaboration" provided an overview of the work of the Alliance and MND Australia.
During the visit, I also met with key practitioners, patients and volunteers all committed to the development of an MND clinic, support group and association. I was able to share resources to assist with establishing a support organization and connect them with the Alliance. Their warm welcome and committed focus on improving outcomes for people living with MND in Malaysia was inspiring.
This visit was funded by MND Australia with support from the organizing committee of the Malaysian Society of Neurosciences annual meeting. Since 2013, an association has been formally established, and MND Malaysia joined the Alliance as a Full Member in 2015.
In 2016, Carol and Alliance General Manager Rachel Patterson visited MND Malaysia as part of their annual member engagement visits. MND Malaysia is active in the region supporting emerging organisations and promoting MND care, support and research.
MND Malaysia received an Alliance Support Grant to assist with travel to the 2016 Annual Alliance Meeting in Dublin, and we look forward to their continued involvement with the Alliance!
MND Australia and the Chinese Medical Doctors Association's ALS Committee
by Carol Birks, CEO, MND Australia
Background:
David Ali, MND Australia Board Director, attended the 2009 International Alliance Meeting and was very impressed by the presentations on the partnership programs. On his return David suggested that MND Australia looked into the feasibility of developing collaborations and partnerships with MND organisations or key practitioners in the Asia/Pacific region. A consultant was engaged at the end of 2010 to undertake a needs assessment to investigate the MND support available in countries in the Pacific and/or South East Asia region. The final report was presented to the board in June 2011. The report confirmed the MND Australia commitment, as a well-established association and as a member of the International Alliance of ALS/MND Associations, to reach out to maintain and to establish collaborations to enhance and promote information, research, care and support for people with ALS/MND.
In late 2011 MND Australia hosted an Asia Pacific Networking meeting during the International ALS/MND Symposium in Sydney to facilitate the exchange of information and the development of collaborations and partnerships in our region.
The Request:
The collaboration between MND Australia and the Chinese Medical Doctors Association's ALS Committee came about following the Alliance meeting in Orlando in 2010. Dr. Min Huang from the Chinese Medical Doctors Association's recently formed ALS Committee attended this meeting for the first time. As a new and emerging support organisation, Dr. Huang identified many 'needs' related to information, support, advocacy and fundraising. A number of well-established organisations and experienced individuals 'offered' their support in helping her to address these needs.
The Response:
Prior to the ALS/MND Meetings in Sydney in 2011, at the invitation of MND Australia, Min Huang spent a week in Sydney visiting MND Australia and the MND Association of New South Wales. Min was able to meet with staff members to learn about the family support service, the equipment loan service, fundraising, advocacy and research funding in Australia. She also spent time with the coordinator of an MND service based in Sydney, exchanging information and ideas.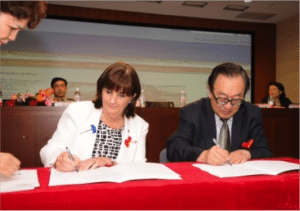 In June 2012, Carol Birks was invited to attend the 2nd China ALS Conference and speak at the inaugural 'Ask the Experts' session for people living with ALS/MND. During the visit, on Global Day, Carol took part in a Signing Ceremony to confirm the collaboration between Australia and China. The visit also afforded the opportunity for Carol to meet with the Australian Ambassador to China to highlight the work of the ALS China Committee, our partnership and the needs of people living with ALS/MND in China.
The Outcome: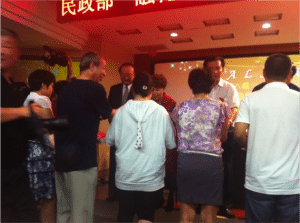 The Annual International Alliance meetings acted as the catalyst for the development of a partnership between Australia and China. Following her visit to Sydney Min Huang applied to the Ministry of Community Affairs for a grant to fund a project to provide aids and equipment to people living with ALS/MND. The application was successful and following the 'Ask the Experts' session on 21 June a press conference was held to launch the Melting the Frozen Heart Charity Project.
These visits provided an opportunity for exchange of information, ideas and resources. It is hoped that the partnership and the contacts made with the international ALS/MND community will continue to grow and that people living with ALS/MND and the health professionals involved in their care will benefit from this sharing of information and knowledge.
IsrALS and the ALS Hope Foundation
by Sara Feldman, the ALS Hope Foundation, USA
The Request:
The collaboration between IsrALS and the ALS Hope Foundation came about during the course of discussions at the Annual Meetings between Efrat Carmi, CEO of IsrALS; Dr. Jeffrey Deitch, Managing Director of the ALS Hope Foundation; and Sara Feldman, a representative of ALS Hope and the Physical Therapist and Assistive Technology Professional at the Foundation's Clinic, the MDA/ALS Center of Hope.
IsrALS was developing a conference based on many aspects of communication and were interested in having a presentation on assistive technology.
The Response: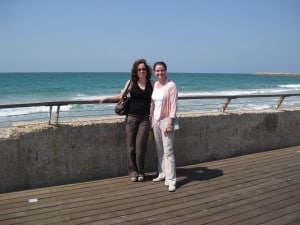 In September of 2011, at the invitation of Efrat Carmi, Sara Feldman traveled to Israel and met with IsrALS. She presented at their symposium on communication. In the days around the conference, Sara was able to meet with multiple health professionals to exchange information and ideas including the social worker, palliative care physician, neurologist, respiratory specialist and physical therapist.
She was also able to meet with the IsrALS Assistive Technology (AT) Team, including participating in a home AT evaluation.
The Outcome:
12 September 2011 was the day of the communication conference at Tel Aviv University, hosted by IsrALS. Efrat's vision of the conference was that the morning and afternoon sessions would each begin with the larger overview and end with a smaller, more personal perspective.
Efrat's vision was fulfilled beautifully. The morning session began with a well-known psychologist discussing communication dynamics between all individuals; then a family therapist discussed more specifically communication of the diagnosis within a family unit or between the family and the caregivers/health professionals; then a meditation specialist asked health care professionals to review how they communicate with others; then one of their nurse/social worker teams discussed their experience with communicating with the people with ALS and their families; and then the daughter of an individual with ALS gave her perspective on how communication occurred within her family and with the health care team. The morning ended with a panel discussion including all of the speakers and the audience was encouraged to ask questions.
The afternoon session then began with Sara's presentation on a broad overview of the use of assistive technology for communication. Next, a member of their Assistive Technology team spoke on how their process of AT evaluations works. Then a researcher spoke on a Brain Computer Interface they are working on. The final speaker was to be an individual with ALS using their AT for communication; however, he was not able to make it so a video was shown instead.
There was a significant exchange of information, especially related to communication and assistive technology. It is anticipated that the individuals living with ALS and the health professionals that work with them have both benefited, and will continue to benefit, from this sharing of knowledge.
The MND Association of Iceland and the ALS Hope Foundation
by Sara Feldman, the ALS Hope Foundation, USA
The Request:
Guðjón Sigurðsson, President of the MND Association of Iceland, invited representatives from the ALS Hope Foundation to travel to Iceland to meet with both researchers and clinicians to exchange ideas and information.
The MND Association of Iceland was interested in developing a database to organize information about people with ALS/MND in Iceland and in providing education on communication options to clinicians working with individuals with ALS.
The Response:
Dr. Jeffrey Deitch, the Managing Director of the ALS Hope Foundation, and Sara Feldman, the Physical Therapist and Assistive Technology Professional at the MDA/ALS Center of Hope, traveled to Iceland in August of 2008.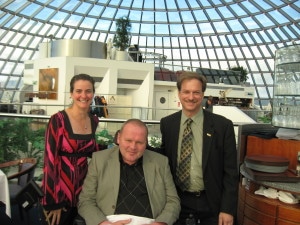 Jeff met with Dr. Grétar Guđmundsson, the neurologist in Iceland specializing in ALS, other clinicians and officials of the Icelandic government to discuss sharing a database program developed by the ALS Hope Foundation. This database can be used to follow patient progress, provide data for epidemiological studies and relate biological samples to disease progression for research (i.e., biomarkers).
They also met with a representative from deCODE genetics, Inc., to discuss research and development using genetic samples and population mapping to identify genes potentially involved in the risk and/or progression of ALS/MND. They were given a tour of their well-equipped, advanced research facility.
Sara gave presentations on Assistive Technology and Multidisciplinary Care to two different groups of clinicians who care for individuals with ALS/MND, one at the Landspítali Hospital in Reykjavík and one at the Heilsustofnun NLFI Clinic in Hveragerdi.
At the Heilsustofnun NLFI Clinic, Sara and Jeff toured a specialized patient room created based on the Dr. Bruce Rosenberg Suite of Hope established by the ALS Hope Foundation at Hahnemann Hospital in Philadelphia, USA. These rooms are adapted to accommodate the unique communications and mobility needs of people with ALS when they need to stay overnight in a hospital or clinic.
The Outcome:
Understanding how care is delivered in different settings helps in evaluating and redefining how each clinician provides their own care. There was an exchange of information on both sides, especially related to communication options. Two hospital/clinic rooms are now available to individuals with ALS in two different corners of the world. The time and effort devoted to the database can be used as a template or prototype by others as they work to develop their own.
We hope these ongoing partnerships are just the beginning of further participation in the worldwide clinical and research effort to improve the lives of people living with ALS and move us closer towards the goal of curing ALS.
MND Australia and MND New Zealand
by Rod Harris, MND Victoria, Australia
Background
Australia and New Zealand have similar health care systems and both use a model of support involving outreach workers (fieldworkers in New Zealand; Regional Advisors in Victoria) who are the navigators of the support systems that each country provides.
Action
MND New Zealand sought information on a range of matters regarding fieldworkers and their conditions of employment.
MND Victoria was able to provide detail regarding remuneration and employment conditions of Regional Advisors, including the strategic thinking around some key issues such as time in lieu, bonuses, annual and other leave, personal development, participation in branch/support group activities etc.
The outcome was to provide a basis for the creation of an effective employment agreement between MND New Zealand and its employee fieldworkers, ensuring that they have agreed conditions of work and appropriate remuneration. By having a practical example of what happens in another country, it prevents the inquirer from having to "reinvent the wheel."
Save