From Carol: "The International Alliance of ALS/MND Associations offers members access to many resources and opportunities to help grow and develop the services and support they provide to people with ALS/MND. Not least of these opportunities are partnerships and friendship. Out of a casual conversation with Sally Light, CEO MND Association England, Wales and Northern Ireland, grew a wonderful opportunity to visit our friend and colleague Efrat Carmi, CEO, IsrALS. We will be eternally grateful to Efrat and the IsrALS Board for the invitation to visit Israel and for being such amazing and generous hosts."
On the first day, Carol was in Tel Aviv visiting IsrALS. IsrALS is a small organisation employing four social workers who provide support and information to people diagnosed with ALS/MND across Israel. Their focus is on a program of home visits for people recently diagnosed and the provision of ongoing support and information to ensure access to government support and services.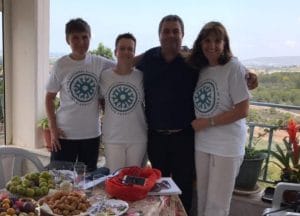 On Carol's second day, she visited another Alliance member, Prize4Life. They discussed the history of Prize4Life and their programs which include the ALS Analyser, ALS Research Forum, ProACT and the Shay Rishoni Prize. Future initiatives include the 2018 Genetic Challenge and a Hackathon in Boston at MIT in collaboration with the ALS Association. The hackathon will throw open an IT challenge to students to work with ALS patients to develop Assistive technology solutions.
On the last day of her trip, Carol travelled north to meet the IsrALS Arab Social Worker, Badran, who was employed to support Israeli Arabs. Just 4 years ago ALS Israel was in touch with only 10 Arab people with ALS. Badran is now in contact with 65 people from the Arab community in Israel with a diagnosis of ALS and all people newly diagnosed are referred to Badran. Hebrew information has been translated into Arabic, an Arab Assistive Technology OT has joined the team and an Arab speaking clinic has been set up. The inaugural ALS Workshop will be held this month and a new project involving home visits from the palliative care doctor is due to start soon.
During her visit, Carol also met with Kadimastem, who are working with Induced Pluripotent Stem Cells (IPS) to treat ALS, Professor Mark Gotkine from the Department of Neurology at the MND Clinic in Jerusalem and EyeControl, where she was introduced to their innovative communication device.