In January 2018, the Alliance's General Manager Rachel Patterson Moles kicked off the new year with a trip to the United Kingdom.
First, Rachel stopped in Northampton, England, where she met with members of the MND Association team in their offices. While in Northampton, Rachel reviewed her 2018 Operational Plan with the newly-elected Alliance Chairman Steve Bell, and also reviewed the Alliance's annual report, budget and financials with the Alliance's Financial Officer, Ben Haynes.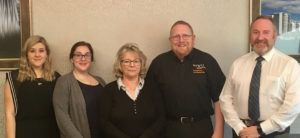 The next day, Rachel was off to Glasgow, the site of the 2018 Alliance Meeting, Allied Professionals Forum and International Symposium on ALS/MND. There, she was joined by her colleagues from the MND Association's Conference and Symposium Teams, as well as Craig Stockton, the CEO of this year's host association, MND Scotland. First, they visited and toured the Crowne Plaza Glasgow, which will be the site of the 26th Annual Alliance Meeting. Then, they walked next-door to the Scottish Event Campus, the site of the 16th Allied Professionals Forum and 29th International Symposium on ALS/MND.
On-site in Glasgow, Rachel and her colleagues made venue and seating plans, reviewed costs and sponsorship plans, planned for AV and technical needs and selected lunch and dinner menus (no chicken!).
After her meetings, Rachel took some time off to get to know the city of Glasgow. Even in January, the city was beautiful, friendly, easy to navigate and full of fun activities. We can't wait to see you there in December!